You are here
Alabama
State Library Address:
Alabama Public Library Service
Montgomery,
AL
36130-6000
The Grants to States Program
The Grants to States Program is the largest grant program run by IMLS; it provides funds to State Library Administrative Agencies (SLAAs) using a population-based formula set by the law. SLAAs determine goals and objectives for the funds in their statutorily required five-year plan (see below). For more information, see the Grants to States program overview.
"People turn to their libraries now for education as well as for entertainment. We also see our libraries becoming true community centers, especially in our smaller locations, and that gives us the responsibility of providing programming and services that benefit the whole spectrum of users in each place."
-- Alabama Public Library Service
Project Examples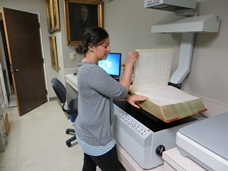 Digitization of High-Demand Rare Library Materials
The Birmingham Public Library used grant funds to digitize high use Civil Rights documents, including arrest records of the 1963 Civil Rights demonstrators, early versions of Martin Luther King, Jr.'s Letter from a Birmingham Jail, and documents related to the Freedom Riders and the Sixteenth Street Baptist Church bombing. With approximately one million documents and photographs related to the Civil Rights Movement alone, the Birmingham Public Library Archives collection is one of the largest in the country for U.S. Civil Rights Movement materials. Each year the Archives serves researchers from 30 to 40 states and several foreign countries, and these newly digitized materials will enable even wider access to some of the collection's most popular documents.
IMLS Funds: $15,000
Library Technology and Automation
Ragland Public Library, which was completely destroyed by tornadoes in April 2011 and rebuilt in two years, used grant funds for state-of-the-art technology, including computers, printers, a server, and software. The library is located in northeastern Alabama and serves a population where 16 percent live below the poverty level, 32 percent do not have a high school diploma (as compared to 17 percent statewide), and 69 percent of students are eligible for free and reduced lunches (as compared to 53 percent statewide). The library's new public access workstations and printers offer an enhanced user experience, and the library has been able to provide wireless access to patrons and staff for the first time.
IMLS Funds: $15,000
Search the Awarded Grants Database for additional details about awards in this state.
View the IMLS funding by state report - Alabama (PDF 1.04 MB) with additional information about all IMLS funding for this state (FY 2011 – FY 2016).
Five-Year Plan Highlights
Lifelong Learning
General Services and initiatives
Support informational and cultural programs for persons of all ages and of diverse ethnic or cultural backgrounds in recognition of their needs for education, lifelong learning, workforce development, and digital literacy skills.
Literacy
Support programs for individuals with limited functional literacy or information skills.
Increase participation in Alabama's Statewide Summer Reading Program by expanding the program's visibility. Provide high-quality summer reading program materials for children, youth and adults at all participating public libraries, along with an extensive manual of programming and promotional ideas.
Online Learning
Support technology training for library users to help them learn how to access information and materials online.
Provide an online learning and homework help service for people in grades pre-K through 12, at the beginning college level, and at the adult level.
Information Access
General Services and Initiatives
Support strengthening collections in all formats at the state and local levels.
Partner with other state agencies and organizations to maintain and improve statewide public access to information services.
Access to E-Resources
Provide funds for statewide purchasing and licensing of e-databases and other e-source materials.
Interlibrary Loans
Provide funds for maintaining the electronic statewide union catalog of public library holdings.
Provide funds for electronic interlibrary loan requests.
Support the acquisition and utilization of library service delivery vehicles.
Digitization/Preservation
Provide grant funds for the digitization of library materials for the purposes of preservation and electronic access.
Economic and Employment Development
Job Seekers
Provide an online selection of career and academic resources, including e-books, to prepare people for jobs, career advancement, basic skills, academic achievement, and re-entry into the workforce.
Institutional Capacity
Continuing Education
Coordinate and offer programs, workshops and institutes for public library staff and trustees on serving patrons with diverse backgrounds and needs. Participants will be given instruction in the basic skills of librarianship and leadership; training through which the staff will learn effective strategies for boosting early childhood literacy; and training to help staff boost the information literacy of library users.
Support technology training for library staff to help them learn how to access information and materials online.
Partnerships
Seek partnerships with organizations that offer expertise in the areas identified for staff training.
Technology
Strengthen the electronic infrastructure of libraries throughout the state by providing grant funds for tech equipment and software, rapid telecommunications, and partnership efforts with other agencies.
Civic Engagement
Programs
Offer competitive grants to public libraries for programs that do one or more of the following: (1) promote awareness of community services, (2) provide a connecting point to community services, (3) strengthen civic life, (4) respond to community needs, (5) knit community members together through common experiences and shared interests, and (6) promote cultural expression.
Human Services
Special Services for Special Needs
Support information services for the disabled at the state and local levels.
Publish a quarterly newsletter for the blind and physically handicapped (WhAT's Line) to keep these library users informed about the services offered and about issues that may affect them.
Health and Social Services Information
Offer competitive grants to public libraries and to state departments and institutions for programs that provide services for at-risk individuals. This initiative may include the development of partnerships with other organizations that serve individuals in schools, pre-schools, youth detention centers, youth courts, housing authorities, community services, child-care centers, and adult-care centers.
Support information services for those having difficulty using a library, including support for outreach programs at institutions, hospitals, nursing homes and senior citizen centers.
IMLS Data Collection
State Library Administrative Agency Survey
The State Library Administrative Agency Survey (SLAA) provides descriptive data about state library agencies for all fifty states and the District of Columbia.
Public Libraries Survey
The Public Libraries Survey (PLS) provides national descriptive data on the status of public libraries in the United States and its territories. Data are collected from more than 9,000 public library systems with over 17,000 public library outlets. Explore state-level profiles to find and compare totals on key data such as numbers of libraries and librarians, revenue and expenditures, and collection sizes.
Content last reviewed on
December 6, 2017