You are here
National Arts and Humanities Youth Program Awards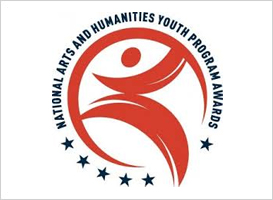 Formerly Coming Up Taller, these awards recognize and support outstanding community arts and humanities programs that celebrate the creativity of America's young people by providing them with learning opportunities and chances to contribute to their communities. These awards focus national attention on exemplary programs currently fostering the creative and intellectual development of America's youth through education and practical experience in the arts and the humanities.
This awards program is a project of the President's Committee on the Arts and the Humanities in partnership with the Institute of Museum and Library Services, the National Endowment for the Arts, and the National Endowment for the Humanities.
Each year, awards of $10,000 each are presented to National Arts and Humanities Youth Program Awards honorees. In addition, a Certificate of Excellence is given to all semifinalists.
Does your museum or library have an outstanding afterschool or out-of-school program that is transforming the lives of young people?
Deadline:  February 8, 2017
​January 2017 NAHYP Applicant Webinar Recording (WMV, 124 MB) | January 2017 NAHYP Applicant Webinar Script (PDF, 44.7 KB)
NAHYP Applicant Webinar on January 10, 2017 at 3:00 p.m. Eastern Standard Time
Program Contact:  
Reagan Moore, Museum Program Specialist
202-653-4637
rmoore@imls.gov
Tim Carrigan, Library Program Officer
202-653-4639
tcarrigan@imls.gov
Faith Steele, Library Program Specialist
202-653-4714
fsteele@imls.gov
For more information and a list of 2016 Recipients, see the National Arts and Humanities Youth Program Award.
Blog Posts
Post date:
December 01, 2016
Post date:
October 15, 2015
Events/Webinars