You are here
Serving New Americans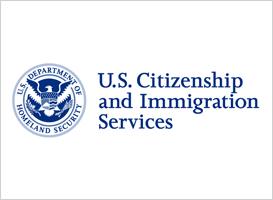 More than 55 percent of new Americans use the public library at least once a week. There, they find a trusted environment, resources and community connections that can ease the way to full participation in American society. For many people new to the United States, libraries serve as a gateway to citizenship, offering English language learning, training materials and resources on immigration and citizenship.
Likewise, museums also address the needs of new arrivals with cross cultural programming and inclusive community outreach. Museum exhibitions and events help deepen understanding of diverse cultures and strengthen community connections.
Since 2013, IMLS has worked with the United States Citizenship and Immigration Services to help libraries provide accurate and useful information about immigration and citizenship benefits, promote an awareness and understanding of citizenship, and ensure the integrity of the immigration system. In 2016, that Memorandum of Understanding was renewed and expanded to include museums.
For more information see the memorandum of understanding (PDF, 1MB).
See resources for libraries on the USCIS website.
Webinars -- Archives
Preparation for the Naturalization Test
March 17, 2016, 2:00 PM EDT
USCIS representatives will provide a brief overview of the test components and then highlight specific study materials and where to find them to assist patrons preparing for the test. A question-and-answer session will follow the presentation.
Overview of the USCIS Citizenship and Integration Grant Program
Tuesday, January 19, 2016, 3:00 - 4:00 p.m. EDT
USCIS representatives and library grantees will discuss the USCIS Citizenship and Integration Grant Program. Past recipients of these grants include public libraries, public school systems, community colleges, and literacy organizations, among others.
Overview of Citizenship and Integration Grant Program - USCIS Presentation, January 19, 2016 (PDF, 890KB)
Overview of Citizenship and Integration Grant Program - Library Presentation, January 19, 2016 (PDF, 824KB)
Overview of Employee Rights and myE-Verify Updates
Wednesday, December 09, 2:00 - 3:00 p.m. EST
IMLS and USCIS present a webinar for librarians on employee rights and free tools available within myE-Verify. Read more.
White House Task Force on New Americans
Tuesday, October 27, 2:00 - 3:00 p.m. EDT
The next IMLS-USCIS webinar will provide an overview about the White House Task Force on New Americans, an interagency effort to develop a federal strategy to better integrate immigrants into communities. Read more.
White House Task Force on New Americans Presentation, October 27, 2015 (PDF; 990KB)
Bridges to Citizenship: Connecting Classrooms and Libraries to Expand and Enhance Services for Adult Immigrant Learners
Tuesday, August 11, 2:00 - 3:00 p.m. EDT
The webinar will focus on resources available to immigrant-serving organizations and adult education programs. Representatives from the USCIS Office of Citizenship will provide an overview of how libraries can expand and enhance adult citizenship education services and obtain free materials to display. Read more.
Human Trafficking Prevention 101: An Overview for Public Libraries
Monday, February 23, from 1:00 – 2:00 p.m. EDT
As part of their partnership to provide resources for public librarians, IMLS and the U.S. Citizenship and Immigration Services (USCIS) will present a webinar on Human Trafficking Prevention and the Blue Campaign. Representatives from the Department of Homeland Security Blue Campaign and USCIS will discuss the resources and tools available to help combat human trafficking that librarians can help distribute in their communities.
Deferred Action for Childhood Arrivals (PDF, 3.4MB)
Wednesday, June 25, 2014
On June 15, 2012, the Secretary of Homeland Security announced that certain people who came to the United States as children and meet several guidelines may request consideration of "deferred action" for a period of two years, subject to renewal. The webinar,  presented by USCIS and hosted by IMLS, will provide librarians with a basic understanding of deferred action, specifics on who may qualify, and identify how to file.
E-Verify: Employment Eligibility Verification Webinar for Public Librarians (PDF, 1.9MB)
Monday, June 2, 2014
This webinar will explore E-Verify, the federal government's no-cost web-based service that enables employers to verify new hires' employment eligibility. The presentation will also include an overview of Form I-9, the Employee Rights Toolkit, Self Check, and other USCIS resources. Familiarity with these resources can be vital for public librarians to assist library customers with employment eligibility verification information.
USCIS Citizenship Education and Initiatives (PDF, 2.2MB)
Thursday, March 6, 2014
This presentation will build on many of the topics discussed in the first USCIS-IMLS webinar held on February 4, 2014. Specifically, this webinar will highlight USCIS educational resources related to citizenship and the naturalization process, as well as information on how libraries can actively engage in citizenship-related activities and events.
USCIS Customer Service Tools and Resources: An Overview for Libraries
Tuesday, February 4, 2014
IMLS and USCIS are partnering to ensure that librarians have the necessary tools and knowledge to refer their patrons to accurate and reliable sources of information on immigration-related topics. The webinar highlights the agency's work with libraries, ways in which libraries can find immigration and citizenship information online, and practical activities libraries can implement to engage the immigrant community. Read transcript (PDF, 87 KB) 
Blog Posts
Post date:
March 08, 2016
Post date:
September 24, 2015
Post date:
September 17, 2015
Publications