You are here
STEM (Science, Technology, Engineering, Math)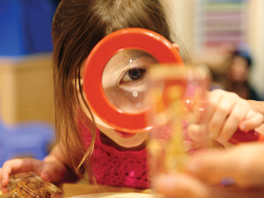 Libraries and museums are improving learning in science, technology, engineering and math, a national priority for US competitiveness.

Partnership: STEM Video Game Challenge
IMLS is a National Community Sponsor of the National STEM Video Game Challenge. The Challenge, now in its third year, was inspired by President Obama's "Educate to Innovate" Campaign, promoting science, technology, engineering and math education.
Search the Awarded Grants database for grants to projects that strengthen STEM learning. Select STEM as a Grant Issue Area to get results for projects from FY 2009, or do a keyword search for science, technology, engineering, and/or math terms.
STEM Grantmaking
In FY 2013 and 2014, IMLS awarded more than $23 million in grants for STEM-related projects.  A list of these grants is available here.
Blog Posts
Publications
Events and Webinars
February 18 2016

3:00 PM Eastern

to

4:00 PM Eastern
February 17 2016

4:00 PM Eastern

to

5:00 PM Eastern
Awarded Grants
| Institution | Log Number | Program | Fiscal Year | Award |
| --- | --- | --- | --- | --- |
| Association of Science-Technology Centers | MG-00-15-0002-15 | National Leadership Grants for Museums | | $147,304.00 |
| Purdue University | RE-06-10-0101-10 | Laura Bush 21st Century Librarian Program | | $187,242.00 |
| Research Foundation of the State University of New York | RE-55-13-0045-13 | Laura Bush 21st Century Librarian Program | | $49,435.00 |
| University of California, Los Angeles, Graduate School of Education and Information Studies | RE-02-11-0032-11 | Laura Bush 21st Century Librarian Program | | $609,344.00 |
| University of Tennessee | RE-02-12-0005-12 | Laura Bush 21st Century Librarian Program | | $339,593.00 |
| Florida State University | RE-04-09-0055-09 | Laura Bush 21st Century Librarian Program | | $309,344.00 |
| Rutgers, The State University of New Jersey, Library and Information Department | RE-04-12-0048-12 | Laura Bush 21st Century Librarian Program | | $399,995.00 |
| Syracuse University | RE-05-09-0061-09 | Laura Bush 21st Century Librarian Program | | $706,200.00 |
| University of North Texas Libraries | RE-05-11-0051-11 | Laura Bush 21st Century Librarian Program | | $226,786.00 |
| University of North Texas | RE-05-11-0073-11 | Laura Bush 21st Century Librarian Program | | $624,663.00 |