Event Location:
U.S. Institute of Peace, Washington, DC
9:00 a.m. to 3:00 p.m.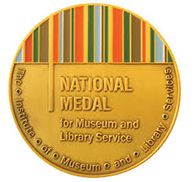 The National Medal for Museum and Library Service is the nation's highest honor for institutions that make significant contributions to their communities. Since 1994, IMLS has presented the award to institutions that demonstrate extraordinary and innovative approaches to public service, exceeding the expected levels of community outreach.
The winners will be honored at a National Medal award ceremony at the U.S. Institute of Peace at 2301 Constitution Avenue, NW, Washington, DC, on May 24, from 9:00 a.m. to 3:00 p.m. The public is invited to view the events via livestream.
The day's events will include two morning panels featuring leaders from the ten winning institutions, as well as an afternoon awards ceremony.
Programs:
National Medal for Museum and Library Service