You are here
Community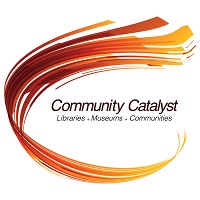 The Community Catalyst Initiative seeks to inspire and challenge museums, libraries, and their partners to transform how they collaborate with their communities.
A catalyst ignites transformational change by producing energy in combination with other resources. In this case the focus of change is combining museums and libraries with their community's visions and plans that then sparks ideas, energy, and action. The Community Catalyst Initiative is designed to develop and promote the tools and approaches that can support increased capacity in community engagement, building upon the findings from the 2016 Strengthening Networks, Sparking Change report and town hall.
Community Catalyst draws on the unique relationships, knowledge, networks, and spaces of museums and libraries to encourage meaningful collaborations with local non-profit and community development organizations, community associations, and individual community members. The initiative supports the library and museum sectors by:
supporting adoption of practices in current community development and developmental evaluation at a local level;
 
discovering opportunities for libraries and museums to better serve particular populations, such as veterans, and developing tools grounded in user-centered design and partnerships;
 
researching how to best draw upon local assets, STEM practitioners, to motivate science inquiry within in the unique family learning environments offered by libraries and museums;
 
analyzing the contributions of museums and libraries to the wellbeing of their communities on a national scale through the Understanding the Social Wellbeing Impacts of the Nation's Libraries and Museums study; and
 
creating a draft Theory of Change (PDF, 134 KB) to establish actions, outputs, and longer term outcomes that are anticipated from capacity-building and research projects.
Approaches and tools are gleaned from current practices in museums and libraries, community development projects, capacity-building investments, and researchers and data analysts who seek to identify potential levers and outcomes to effect community change. For example:
IMLS's investments in these activities align with the agency's current Strategic Plan, Transforming Communities, by strengthening the capacity of museums and libraries to improve the wellbeing of their communities. In addition, it is integral to the agency's commitment to increase access to information, ideas, and networks through libraries and museums.
Finally, it promotes agency excellence by using findings from grantees and other related sectors, such as social service, local governments, funders, and community development corporations, to inform the agency's work and improve the practices and effectiveness.
For more information, see the list of resources (PDF, 603KB). You can also contact:
Dr. Marvin Carr, Senior Advisor for STEM and Community Engagement, mcarr@imls.gov
Sarah Fuller, Senior Program Officer in the Office of Library Services, sfuller@imls.gov
Mark Feitl, Program Officer, Office of Museum Services, mfeitl@imls.gov
Blog Posts
Publications
Events and Webinars
December 14 2016 2:00 PM Eastern
April 13 2016

9:30 AM Eastern

to

10:15 AM Eastern
March 17 2016

2:00 PM Eastern

to

3:00 PM Eastern
Press Releases
Awarded Grants
| Institution | Log Number | Program | Fiscal Year | Award |
| --- | --- | --- | --- | --- |
| Association of Science-Technology Centers | MG-00-15-0002-15 | National Leadership Grants for Museums | | $147,304.00 |
| Peninsula Library System | RE-06-09-0111-09 | Laura Bush 21st Century Librarian Program | | $170,025.00 |
| Online Computer Library Center/WebJunction - Seattle | RE-06-09-0119-09 | Laura Bush 21st Century Librarian Program | | $250,000.00 |
| Online Computer Library Center/WebJunction | RE-06-10-0086-10 | Laura Bush 21st Century Librarian Program | | $940,750.00 |
| University of Arizona | RE-51-13-0004-13 | Laura Bush 21st Century Librarian Program | | $47,915.00 |
| American Library Association, Public Library Association | RE-56-12-0031-12 | Laura Bush 21st Century Librarian Program | | $45,145.00 |
| American Library Association, Public Library Association | RE-56-12-0031-12 | Laura Bush 21st Century Librarian Program | | $45,145.00 |
| University of Southern California, Libraries | RE-56-12-0077-12 | Laura Bush 21st Century Librarian Program | | $20,713.00 |
| Association of Tribal Archives, Libraries, and Museums | RE-56-13-0080-13 | Laura Bush 21st Century Librarian Program | | $50,000.00 |
| University of Maryland | RE-71-12-0013-12 | Laura Bush 21st Century Librarian Program | | $499,977.00 |