You are here
Accessibility in Museums and Libraries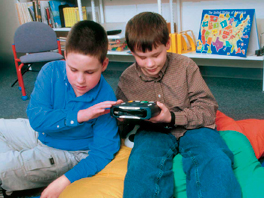 Museums, libraries, and archives can best serve the public by making their programs and facilities as broadly accessible as possible.  This means creating opportunities that go beyond the basic requirements, and thinking expansively about how to be widely-inclusive, welcoming, and collaborative. This Web site is intended to help libraries and museums embrace the great possibilities that could be offered by cutting-edge exhibits, easily accessible physical and virtual spaces, and interactive innovative technology.
This page will be continuously updated to include best practices, useful guides and materials, and examples of IMLS-funded projects that have creatively and effectively reached out to all members of communities.
IMLS Support
Through its grant and award programs, IMLS has provided support to promote accessibility and maximize inclusion at museums and libraries throughout the nation.  From improving accessibility at outdoor nature center wildlife trails, to supporting professional development for school librarians to better serve K-12 students with disabilities, to connecting the Spanish-speaking families of children with autism spectrum disorders to museum and library services, IMLS is committed to ensuring opportunities for all.
Accessibility: International Developments
IMLS is working on the international stage to promote access for the blind and visually impaired.  As a member of the U.S. delegation to the World Intellectual Property Organization's Standing Committee on Copyright and Related Rights, we are working to facilitate access across national borders to special format materials that can be used by people with print disabilities. For more information, see the U.S. Copyright Office.
Resources
American Library Association (ALA), Association of Specialized and Cooperative Library Agencies (ASCLA) "Library Accessibility—What You Need to Know" Toolkit Series
Fifteen tipsheets developed to help librarians in all types of libraries understand and manage access issues. 
Association for Science-Technology Centers Accessibility Resource Center
Center for Advancement of Informal Science Education: Inclusion, Disabilities, and Informal Science Learning. A report by the CAISE Access Inquiry Group.
Design for Accessibility: A Cultural Administrators Handbook (PDF, 2.5 MB)
Disabilities Access Symbols Project: Promoting Accessible Places and Programs
National Endowment for the Arts and the Graphic Artists Guild Foundation, 1993. A package of 12 graphic symbols designed to assist museums, state arts agencies, performing arts facilities, and other arts organizations advertise that their programs are accessible to senior citizens and disabled people.
Evaluate Your Organization's Accessibility: The Arts and Humanities Accessibility Checklist (PDF, 1.5 MB)
Invite, Welcome, and Respect: Planning Accessible Meetings and Events
The Accessible Museum: Model Programs of Accessibility for Disabled and Older People
National Endowment for the Arts and the American Association of Museums, 1993. Profiles a wide variety of museums, including art, natural history, and historic museums that have exemplary accessibility programs. See the American Alliance of Museums for more information.
Legal References: Grant-Related Accessibility (PDF, 33 KB)
To ensure access to its programs and compliance with the accessibility laws, the Institute of Museum and Library Services has issued a regulation, 45 C.F.R. § 1180.44(b), requiring that its grantees comply with the provisions set out at 45 C.F.R. Part 1170, titled Nondiscrimination on the Basis of Handicap in Federally Assisted Programs or Activities. These regulations are specifically intended to protect individuals with disabilities from discrimination based on their disability. An individual with disabilities ("handicapped person") is "any person who has a physical or mental impairment that substantially limits one or more major life activities, has a record of such an impairment, or is regarded as having such an impairment."
Standards for Accessible Design
In 2010, the United States Department of Justice published revised ADA regulations that update and amend part of the original 1991 ADA regulations. These changes include revised accessibility standards, called the 2010 Standards for Accessible Design (the 2010 Standards), which establish minimum criteria for accessibility in design and construction. When fully effective on March 15, 2012, the 2010 Standards will replace the 1991 ADA Standards for Accessible Design (commonly called ADAAG) and Uniform Federal Accessibility Standards (UFAS) as accessibility standards for new construction, alterations, program accessibility and barrier removal under the ADA.
IMLS grant recipients are permitted, but not required, to use the 2010 Standards as an acceptable alternative to the UFAS for purposes of complying with Section 504 of the Rehabilitation Act. IMLS deems compliance with the 2010 Standards to be an acceptable means of complying with Section 504's accessibility requirements for new construction and alterations. However, once an IMLS grant recipient has selected an applicable accessibility standard for new construction or alterations under Section 504, that standard must be applied to the grant recipient's entire facility.
Publications
Events and Webinars
April 13 2016

9:30 AM Eastern

to

10:15 AM Eastern
January 19 2016

3:00 PM Eastern

to

4:00 PM Eastern