FOR IMMEDIATE RELEASE
IMLS Press Contact
Giuliana Bullard, 202-653-4799
gbullard@imls.gov
IMLS Publishes Results of State Library Administrative Agency Survey for Fiscal Year 2012
Revenue and staffing levels continue to decline
Washington, DC -- The Institute of Museum and Library Services issued the State Library Administrative Agency (SLAA) Survey for Fiscal Year 2012 Report, which provides a view of the condition of state library administrative agencies in the 50 states and the District of Columbia.
State library administrative agencies administer federal funds through the IMLS Grants to States program and play a crucial role in helping libraries within their state meet the demand for content and services by establishing statewide plans for library services, investing in technology and content, and providing support for local programming.
The results of this study show that while SLAAs continue to shape library services in their states, they have faced a period of declining revenues. The revenue from federal, state and other sources to SLAAs totaled nearly $1 billion in FY 2012, a 27 percent decrease in revenue from FY 2003 and a 12 percent decrease from FY 2010. The overall decline in total revenue is due to declines in state revenue, which decreased 15 percent from FY 2010 and decreased 32 percent FY 2003. The majority (77 percent) of revenue for state library administrative agencies is derived from the states themselves.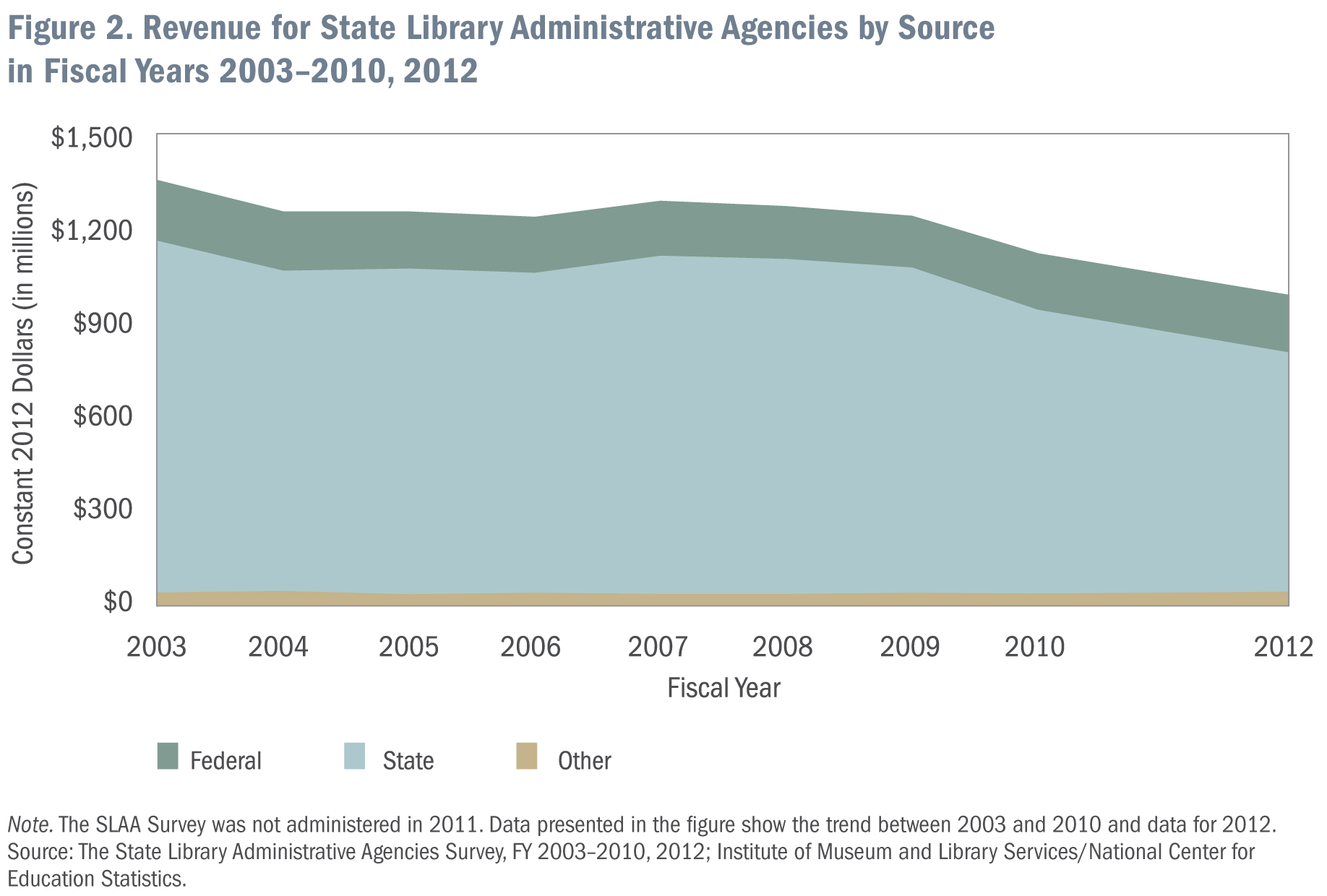 One impact of the revenue decline has been an overall reduction in staff at SLAAs. Between FY 2009 and FY 2012, there was an 11 percent decrease in the total number of Full Time Equivalent SLAA staff positions.

IMLS Director Susan H. Hildreth said, "The reduction in support for state library agencies is an alarming trend. These agencies have an important role at the state level in administering federal funds and providing services to public, school, academic, and specialized libraries."
SLAAs provide a variety of services that expand learning and access to information. Some of the services described in the FY 2012 report include the following:
Funded summer reading programs (50 states in FY 2012)
Supported continuing education programs for library staff (50 states in FY 2012)
Reviewed technology plans for federal E-rate discount program funds (50 states in FY 2012)
Funded or facilitated statewide database licensing; text or data files; or electronic information networks (50 states)
Facilitated digitization programs and services (40 states in FY 2012)
Operated interlibrary loan referral services (38 states)
Operated libraries for the blind and physically handicapped and state centers for the book.
The purpose of the SLAA survey is to provide state and federal policymakers, researchers, and other interested users with descriptive information about state library administrative agencies. The federal government has been collecting statistical data on SLAAs since 1994, and this report marks the sixth release of state library statistics from IMLS. It contains data on SLAAs in the 50 states and the District of Columbia for FY 2012.The data were collected through the SLAA Survey, a product of a cooperative effort among the Chief Officers of State Library Agencies (COSLA), IMLS, and American Institutes for Research (AIR).
For more information about individual states, see the Grants to States Program Profiles page on the IMLS website. It features an interactive map and links to pages with details about each state's programs, LSTA allotments, plans, and project examples.
About the Institute of Museum and Library Services
The Institute of Museum and Library Services is the primary source of federal support for the nation's 123,000 libraries and 35,000 museums. Our mission is to inspire libraries and museums to advance innovation, lifelong learning, and cultural and civic engagement. Our grant making, policy development, and research help libraries and museums deliver valuable services that make it possible for communities and individuals to thrive. To learn more, visit www.imls.gov and follow us on Facebook and Twitter.