History at Home: Exploring African American Heritage, Stories, and Culture Through Online Museum Collections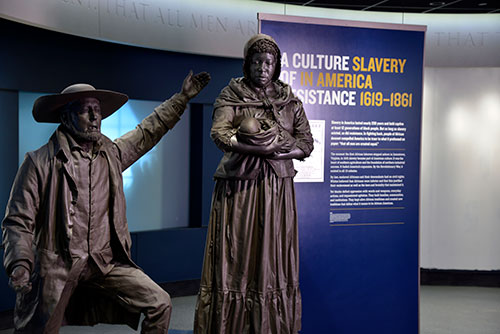 Museums that tell the many stories of African American history, heritage, and culture are among the many types of institutions making their collections more accessible than ever.
From New York City and to New Orleans, here's just some of the incredible work that recipients of IMLS Museum Grants for African American History and Culture have been sharing with the public.
The Museum of Contemporary African Diasporan Arts (MoCADA) in Brooklyn recently launched MoCADA Digital. This new multimedia experience, made possible in part by an IMLS grant, was created to increase access to and understanding of black contemporary art and its social and political context for all audiences, regardless of ability, location, or educational background.
Online visitors can explore virtual galleries, exclusive museum notes, playlists, workshop recordings, and more via the new page. There's the Reflections of Black Sheroes series, which is devoted to highlighting the legacy of black women's diary and journal writings.
Or, you can listen to one of four new podcasts covering the intersection of art and activism, featuring artists from MoCADA exhibitions past and present. There's also the option to dive in to one of the museum's videos that accompany its exhibitions, such as Langston Allston: A Love Letter to New Orleans.
The Amistad Research Center has also expanded its collections online. The museum, located in downtown New Orleans, collects, preserves, and provides open access to original materials that reference the social and cultural importance of America's ethnic and racial history, the African Diaspora, human relations, and civil rights.
Among the museum's Digital Projects are oral histories, collections of photographs, letters and documents, and a documentary. Their Amistad on the Go! program is a free interactive education resource for students and educators in grades 6-12 with a curriculum that includes first-person narratives, interactive worksheets, and visual or audiovisual resources.
Amistad also makes its collections available for researchers. The history of slavery, race relations, African American community development, and the civil rights movement have received new and thought-provoking interpretations as the result of scholarly and community research using Amistad's resources. The museum's holdings include the papers of artists, educators, authors, business leaders, clergy, lawyers, factory workers, farmers, and musicians.
In order to facilitate access to its collections, the center applied for and received a grant from IMLS to add a new digital archivist position. This enabled Amistad to create standards-based policies and workflows, train staff on best practices for digital assets management, and develop and implement procedures for the acquisition, preservation, and access of born-digital materials.
All these improvements will provide staff with easier access to materials and help them better assist with reference inquiries and research requests.
You can explore more IMLS Museum Grants for African American History and Culture here, as well as the resources of organizations like the Association of African American Museums (AAAM) or the National Museum of African American History and Culture.
Do you have a story or site to share? You can email us at imlsnews@imls.gov, or drop us a line on Twitter or Facebook.
Photo Courtesy of Civil Rights Museum at the Lorraine Motel.
Programs
Museum Grants for African American History and Culture