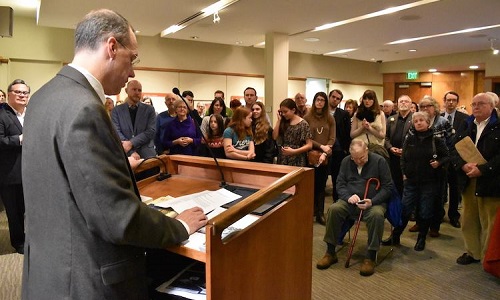 Project Snapshot
Grant Program name: National Leadership Grants For Museums
Grant log number: MG-10-13-0009-13
Year Awarded: 2013
Recipients: Maine Historical Society in partnership with the Maine State Library
"Maine Memory Network puts the individual in the center of their own museum experience. We are giving voices to the community in a way that we were never able to before." – Stephen Bromage, Executive Director, Maine Historical Society
When the Maine Historical Society (MHS) launched the Maine Memory Network in 2001, it wanted to bring together historical collections and stories from across Maine that weren't widely accessible to the public. In the 16 years since, Maine Memory Network has evolved into a digital museum that connects over 270 historical institutions in Maine, helping them weave their collections and respective stories into a broader tapestry of Maine's history. Now MHS is embarking on the next phase of inclusion: empowering individual contributors.
Erecting a Digital Archive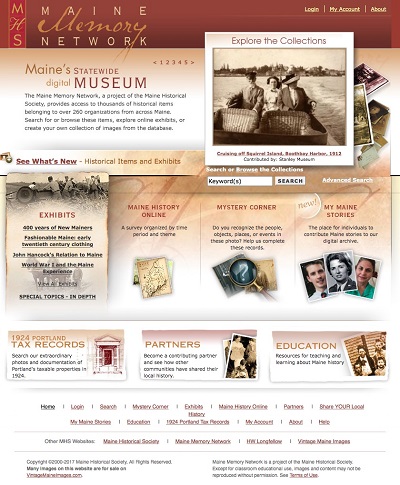 Maine Memory Network has evolved continually since its launch in 2001 and has become a robust platform for a wide range of historical activities. "Its most remarkable characteristic," said Stephen Bromage, executive director of the Maine Historical Society, "is the degree of autonomy it gives historical societies, libraries, museums, and other contributors in sharing their collections." MHS provides training, support, encouragement, and the technological infrastructure. Contributing partners choose what material to share and then do all work locally.
Maine Memory Network now offers access to more than 70,000 historical items contributed by 270 organizations across Maine, hundreds of online exhibits, websites built by community teams, educational resources, and much more. "Maine Memory Network has become a gateway, a jumping off point, and shared space where individuals and communities explore their experience as part of broader narratives of Maine and U.S. history. The model gives status to local knowledge and expertise, helps local partners build capacity, and radically expands the perspectives that are included in Maine history."
MHS has also spent significant time developing program models that focus on how communities can use participation in Maine Memory Network to develop partnerships, share resources, and build capacity, using and building from the 21st Century Skills that IMLS developed. "That framework is something that we found extremely useful," said Bromage. "It helped us articulate the value of what we were doing to members of local historical organizations, teachers, librarians, and community members."
Now individuals will have the power and tools to share and connect their stories, too.
Empowering Individual History Makers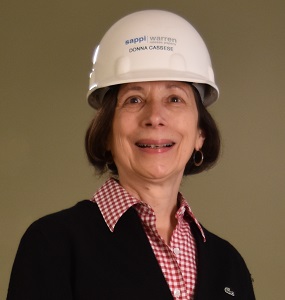 In 2013, MHS received a National Leadership Grant from IMLS to pilot tools and programs that empower individuals to contribute to Maine Memory Network. Bromage said, "The needs and expectations of the public have changed appreciably in the past decade. In today's culture, people expect to be able to interact with and contribute to the digital resources they use. They want to participate."
"One of the most powerful characteristics of Maine Memory Network is its ability to help people see themselves in history. Our project is designed to put individuals at the center of their own online museum experience. Their personal interests—whether in history, their town, Maine, or a wide array of topics and events—will be the basis for their participation as they explore, participate in, and contribute to Maine Memory and our understanding of Maine history. We now have the opportunity to include the public in the same way that we've excited and engaged cultural organizations."
Through the National Leadership Grant, MHS is broadening participation by: (1) piloting tools that enable individuals to comment on, discuss, and share information about existing Maine Memory content; (2) creating an "Individual Contributor" category on Maine Memory that gives individuals the ability to become formal contributors to the network; (3) adding a new section to Maine Memory, From the Community, that features and highlights content created and contributed by the public; and (4) building an application that will optimize Maine Memory Network for mobile use and enables geolocation to help users find and share content.
Collapsing Physical and Digital Boundaries Through 'My Maine Story'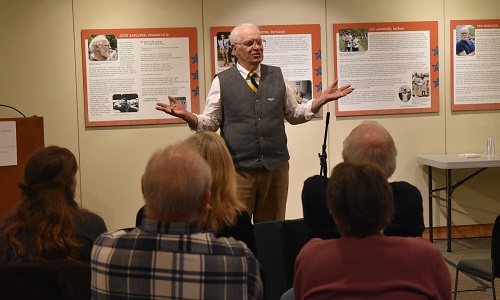 Maine Memory Network's new participatory story portal, My Maine Stories, is designed to capture and share the personal narratives of Mainers through an online forum that supports text, video, audio and photographs. Story topics are not limited to any point in time and are meant to include as many populations and socioeconomic groups as possible. The stories are catalogued for public use through easy search terms and user-friendly experience and maintained on Maine Memory Network's digital archive for educational purposes, future research, and general information.
In this pilot phase, MHS is exploring how the new tools can enrich and enhance a variety of strategic program initiatives, including a series of exhibitions. MHS is using My Maine Stories to capture the experiences of Maine military veterans from WWII, Vietnam, Afghanistan, and Iraq; of recent immigrants to Maine; of retired textile mill workers in Biddeford; of participants in Maine's rapidly changing paper industry; and encouraging all Mainers to consider and share their own "Maine" perspectives and experiences. "My Maine Stories is giving a voice and status to people who otherwise wouldn't see their stories as being important or having value—this initiative is demonstrating that it is their experiences that make history. We want all Mainers to carry that sense that their lives matter."
"Maine Memory Network also gives us a platform where we can provide ongoing access to these stories and continue to add more voices and content that explores issues of contemporary interest to Mainers." Through the Veterans' Voices initiative, MHS worked with veterans' groups to highlight 10 contemporary veteran stories in MHS's galleries which are expanded online. Additionally, through their 2016 exhibit, 400 Years of New Mainers, MHS depicted the role of immigrants and the many ways they arrived and contributed to the culture of Maine. By expanding the physical exhibit and broadening it digitally, the public is able to explore the "peopling" of Maine and to connect with personal histories of the many people who came before.
What's Next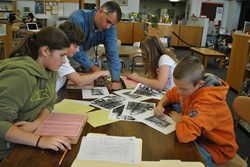 In the next six months, MHS will take these new tools to the public through outreach, programs, and events with its local partners. "A key goal is to give our partners additional tools and resources for capturing the experiences of members of their communities. We want to make sure that anyone who has an interest in being a contributor has the ability and comfort level to do so," said Bromage. "We want to give everyone a voice, and to help them deepen their sense of connection to their communities. Local historical societies and libraries will be key catalysts for that."
According to Bromage, MHS regularly hears from organizations from other states who are interested in replicating Maine Memory Network's dynamics. "While many projects offer access to a much greater volume of individual historical documents, we have tried to focus on a different set of questions and opportunities: how can you expand participation, and what do you do with material once it's online? It's fascinating to see how the dynamics we are discussing here expand and deepen one's sense of and appreciation for what makes Maine Maine."
Individual contributions are already enriching Maine Memory Network and MHS's broader program. "People have been incredibly generous and enthusiastic about sharing their stories. You quickly see that every voice matters, and that we all have so much in common. This work is only in its infancy. We see a vast opportunity to continue to reimagine how people perceive and participate in history," said Bromage. "That is the most powerful thing about Maine Memory Network."
About the Project
Grant Program name: National Leadership Grants For Museums
Grant log number: MG-10-13-0009-13
Year Awarded: 2013
Recipients: Maine Historical Society in partnership with the Maine State Library
Project Contact:
Kathy Amoroso, Director of Digital Engagement
kamoroso@mainehistory.org
207-774-1822 ext. 227
Related Website: https://www.mainememory.net/mymainestories
Resources:
Ithaka S+R Case Study: http://www.sr.ithaka.org/wp-content/uploads/2015/08/SR_Maine_20140129.pdf
Previous IMLS Project Profile: https://www.imls.gov/news-events/project-profiles/october-2006-maine-memory-network
The Maine Memory Network: Re-imaging the Dynamics and Potential of Local History: http://digitalcommons.library.umaine.edu/cgi/viewcontent.cgi?article=1691&context=mpr
Program
National Leadership Grants for Museums