Pictured above: A trail visitor uses tactile signs and maps as a way to explore one of Mass Audubon's 12 all-inclusive trails.
"The ultimate highlight is seeing the trail finished, used, loved, and appreciated by a wide range of people –all ages, all abilities, and all cultural backgrounds. There's nothing better than that."
– Lucy Gertz, Statewide Education Projects Manager, Mass Audubon
Mass Audubon: Protecting the Nature of Massachusetts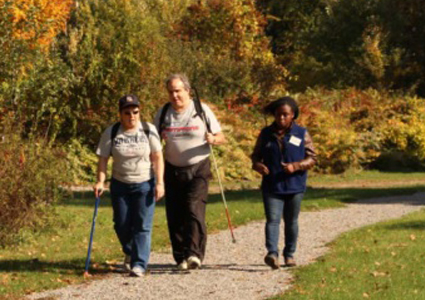 Credit: Mass Audubon
Caption: Nature center visitors hike a trail with a tour guide. Since 2008, Mass Audubon has worked to enable inclusivity on all their trails across the state.
Mass Audubon's main mission is to protect and conserve the nature of Massachusetts for people and for wildlife. The center is committed to connecting adults and children with the natural world and helping them discover the importance of caring for it. But when one in six people has a cognitive or physical disability that may keep them from experiencing Mass Audubon's trails and sanctuaries , the mission becomes more difficult.
In 2008, Mass Audubon was asked to help one of their sanctuaries that had received a private donation to reopen what was called, at the time a Braille trail. However, through inclusive work with donors, designers, and end-users, Mass Audubon conceived an alternative trail that is an ADA compliant all persons trail – their first trail to be considered all-inclusive. Through that initial effort something else was born – Mass Audubon's All Persons Trails Project.
Experiencing Nature Through Five Senses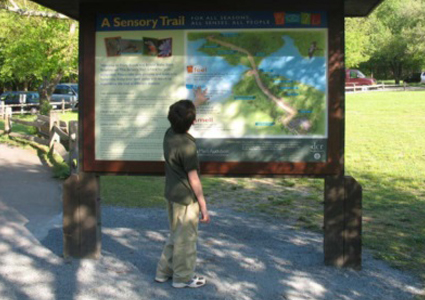 Credit: Mass Audubon
Caption: A trail visitor explores a sensory trail map as he prepares to embark on one of Mass Audubon's All Persons Trails.
In 2010, Mass Audubon was awarded an IMLS grant to add multi-sensory interpretive content on existing ADA-accessible trails at eight wildlife sanctuaries across the state with the goal of creating a richer experience for visitors with a wide range of vision, hearing, and mobility levels. These eight trails were supplemented with audio tours, Braille texts and tactile maps, tour scripts and maps designed for high readability, orientation maps and information panels, improved trail signage, rope/post guiding systems, and wider boardwalks. These trail experiences, which last about an hour, also have many stops with tactile sculptures, trees, and sounds to further engage any and all audiences in the experience.
A Labor of Love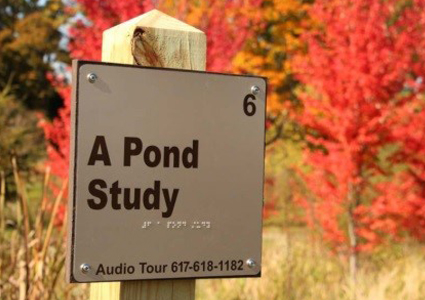 Credit: Mass Audubon
Caption: Trail signs guide visitors of all backgrounds, abilities, and cultures through one of Mass Audubon's 12 accessible trails throughout the state.
Trail development is a two-year process that involves collaborative partnerships with consultants, research professionals, designers, and other stakeholders. The process includes establishing support, building of the trail, and supplementing that trail with experiences and educational materials. While Mass Audubon does try to replicate when they can, they also acknowledge that each trail is unique, just like its traveler, and should be treated as such.
"We learn on every trail. We learn something important about accessibility and formatting, and what kind of information and materials are most helpful. We learn something with every tester group, and with every trail that is completed, we apply what we learned in planning the next trail. So each trail we plan, we have the advantage of the previous trails and what we've learned and done before," said Lucy Gertz, Statewide Education Projects Manager for Mass Audubon.
Testing Accessibility with the Right People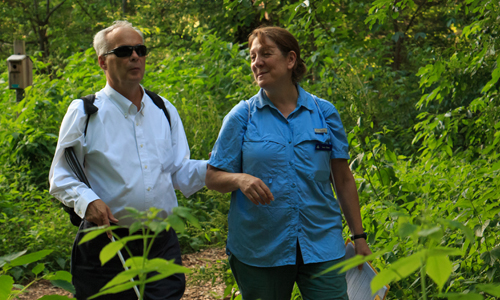 Credit: Mass Audubon /Kristin Foresto
Caption: Jerry Berrier, Mass Audubon's Accessible Trails Technical Consultant and Lucy Gertz, Statewide Education Projects Manager, Mass Audubon take a test hike down a newly accessible trail at the Habitat Education Center in Belmont, MA.
Mass Audubon's innovative approach to accessibility is further proven by the testing methods they use. Through collaborative partnerships with the Bay State Council of the Blind and the Massachusetts Department of Conservation and Recreation, Mass Audubon involves people with disabilities to help develop, design, and test the trails. The practice earned Mass Audubon the Massachusetts Bay State Council for the Blind's 2009 Innovation Award.
"At Mass Audubon, we would never tell people what they need. We want to partner with them and figure out the best way to engage with them and address their needs," said Gertz.
A Massachusetts 'Gem'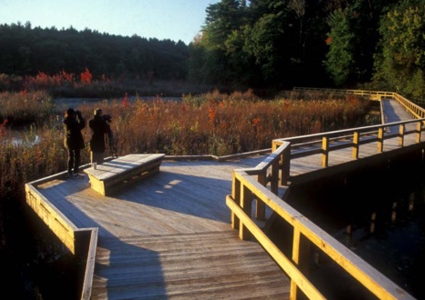 Credit: Mass Audubon
Caption: Trail visitors look out onto the landscape in one of Mass Audubon's wider trails, providing more access to nature trails that are part of their All Persons Trails.
Gertz and her team reap the benefits of the trail long after it's marked complete. "About a week after we finished an overlay of one trail, we hosted a school field trip. All the kids came tumbling out of the school bus, and the back door opened up, and down the ramp came a student in a wheelchair. When they all assembled, they headed down the all persons trail together. There were absolutely no adjustments needed to give each child the full experience, it was just seamless," said Gertz. "Later, we asked one of the school's education coordinators what would have happened without this trail set up. The coordinator replied that the student would have spent the hour in the nature center with an aide, and not experienced the trail the way his classmates did. It made me realize how important it is to create these fully inclusive trail experiences. The school didn't even have to think about it, it was just there."
Mass Audubon also received an award from an independent living agency which recognized Mass Audubon's program as a "gem" – wonderful and rare. "When I asked the agency director why Mass Audubon received this recognition, he said that 'the trail Mass Audubon provides for his clients allows for an independent, healthy, outdoor experience with reliable staff who know how to welcome and serve our clients. That is such a gem for our agency,'" remarked Gertz.
Inclusivity For All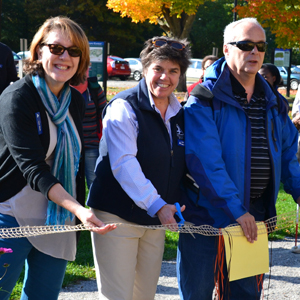 Credit: Mass Audubon/Jean Dorcus
Caption: Lucy Gertz, Statewide Education Projects Manager, Mass Audubon and Jerry Berrier, Mass Audubon's Accessible Trails Technical Consultant flank Julie Brandlen, Director of Mass Audubon's Boston Nature Center, at a ribbon cutting ceremony to open a new accessible trail.
Mass Audubon recently completed the second phase of their Accessible Trails Project by publishing a comprehensive guidelines manual for developing and sustaining an accessible interpretive trail. The manual is available at no charge, in print and online formats, so that organizations can have access to the most appropriate strategies for creating all-inclusive trails that provide an independent, outdoor experience for all users.
In Fall 2016, Mass Audubon will continue to celebrate their innovative success by opening their twelfth trail. "Our goal is to connect as many people as possible to the nature of Massachusetts," said Gertz.
"Our trails are extremely welcoming for all – whether you are an individual without a disability who is a beginner on our trails, or you have any sort of disability that may have kept you from the trail in the past, we aim to design these trails to be welcoming to the entire community."