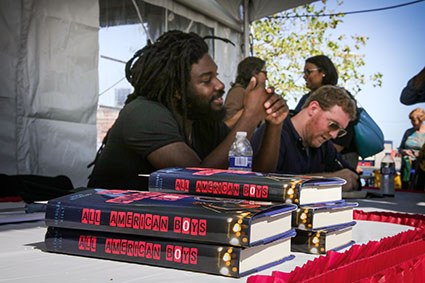 Project Snapshot
Grant Program Name: One Maryland One Book
Year Awarded: 2015
Recipient: Enoch Pratt Free Library - Baltimore
"We hope that with each year's books, individuals will find threads that resonate with them, and through discussion, find commonalities with people they thought they had nothing in common with." – Andrea Lewis, Program Officer, Maryland Center for the Book at Maryland Humanities
Book clubs are timeless traditions that unite individuals through reading, enjoying, and learning from a selected book. In Maryland, the concept of a statewide book club to build communities while also supporting literacy was the impetus for One Maryland One Book, Maryland Humanities' Maryland Center for the Book flagship program.
Partnerships for Community Building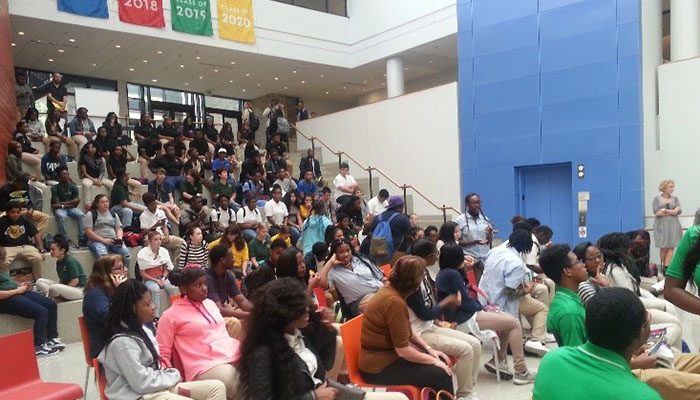 In 2008, the Maryland Center for the Book, a program of Maryland Humanities, collaborated with partners, including the Maryland State Library, Enoch Pratt Free Library, and the Baltimore City Foundation, to establish One Maryland One Book as a vehicle to spark civil discourse in urban, suburban, and rural Maryland communities. One Maryland One Book programming is meant to reach everyone from young adults to retirees in communities across Maryland, large and small.
"What we wanted was to offer an opportunity for people in communities across the state who may or may not know each other already to come together over a shared activity. In this case, what is uniting them is a book," said Andrea Lewis, Program Officer, Maryland Center for the Book at Maryland Humanities.
Equalizing Community Issues through Reading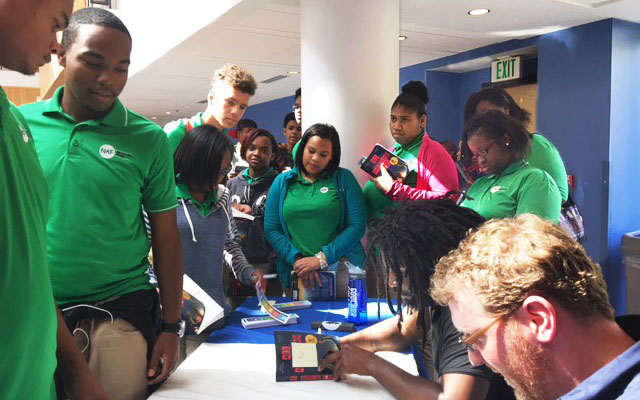 Every fall, a committee of individuals with a vested interest in literacy selects a theme and sends out a call to the general public, educators, librarians, schools, book clubs, and other partners for suggestions for the following year's book. After a process of examining each proposed book based on proscribed criteria established by Maryland Humanities, a title is selected and announced in the spring.
Programming, which includes an author tour, LitLunches, and local book discussions at libraries, schools, and correctional facilities, occurs each September and October. Online resources, including a guide for readers, teacher resources, and other supplemental materials are also provided by Maryland Humanities.
Selected themes tend to be in response to topics discussed at Maryland Humanities, or address current events in the community or across the nation. In 2016, the theme "what is the 21st century American novel" was examined through reading All American Boys, a story of two American boys— one white, one black— leading parallel lives. Discussions evolved from the outlined theme to tougher conversations about race in America and the chasm created by skin color. Participants tackled the sensitive topics of race and privilege through the book's fictional characters, which made the topics more approachable.
"We find that books often help humanize real life situations," said Lewis.
Addressing Challenges through Non-Proscriptive Frameworks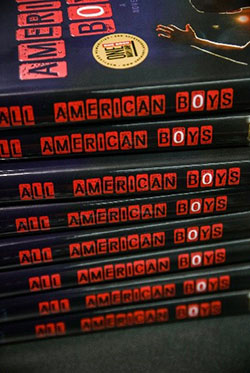 Having enough books, programs, and materials for any statewide program is always a challenge. One Maryland One Book has ironed out a lot of logistical hurdles in the past 10 years, but team members still want to do more with the program, reach more people, and provide more books to participants.  
"We always wish we could get a few more books. Or that we could accommodate a few more people with an opportunity to meet the author during author tours," said Lewis. "We do provide a program framework that can be used by all of our participating organizations to develop their own programs that fit their community needs. So while One Maryland One Book can't accommodate every Marylander with our programming, we encourage community programming that can."
Through program elements such as "Wandering Books," One Maryland One Book expands the physical availability of the book for Marylanders. Partner organizations distribute 150-200 copies of the selected book in public places, such as parks, buses, coffee shops, and office waiting rooms. The organizations then post clues to the copies' locations via social media, which creates an interactive element for participants while also increasing program awareness. Book discoverers are then encouraged to register the book on www.bookcrossing.com, a social networking site that facilitates the passing of books from reader to reader by giving a book a unique identification code and instructing users on how to pass the book along for the next reader to enjoy.
Highlighting the Love of Literature
One Maryland One Book has tremendous success in encouraging community interaction through the shared experiences of reading. While engaging readers is the primary goal of the program, One Maryland One Book also uses authors as role models for students exploring a writing career.
"It's always rewarding to see the love of literature that I think is a very evident and concrete in response to this program," said Lewis. "But it's also equally rewarding to see the benefits students receive when they meet authors during our author tour events. Society does not always encourage the author career track. But meeting these authors allows students to see the success and accessibility of that path."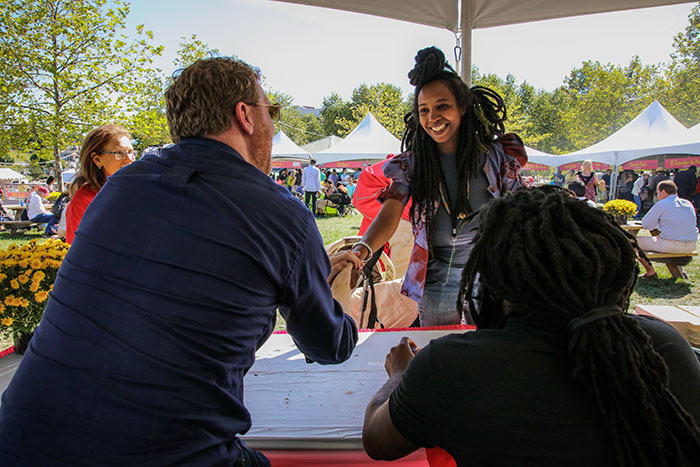 The Next 10 Years
One Maryland One Book has built many communities in the last decade, demonstrated by sustained program participation and incremental growth in requested materials and program opportunities. In the next 10 years, Maryland Humanities wants to expand programming and book selection to reach and include younger audiences.
"It is challenging each year to select a book that will appeal to adults and high school students. It is very easy to get students to read a book geared towards adults, but it takes a little more encouragement to get adults to read a young adult title," said Lewis. "In the next few years, we would like to select a companion book that relates to the theme but would better serve kids younger than high school."
Bringing Maryland Together Since 2008
As One Maryland One Book celebrates its 10th year of success, the program team circles back to reflect upon how far they have come and how much further they'd like to go. While many states have similar statewide reading programs, "Maryland is very proud of the reach of One Maryland One Book," said Lewis.
In 2016, 22 out of 24 Maryland public libraries, 25 Department of Correction facilities, 141 schools and school districts, four colleges and universities, and 22 partner organizations all requested programming materials or held companion events for One Maryland One Book. In fact, every county in the state of Maryland reported a book discussion in 2016.
In 2017, One Maryland One Book's selection, Purple Hibiscus by Chimamanda Ngozi Adichie, addresses themes of home and belonging.
"Every book we select should spark conversation that ultimately strengthens communities," said Lewis. Here's hoping it continues to do just that.
About the Project
Grant Program Name: Enoch Pratt Free Library - Baltimore
Year Awarded: 2015
Recipient: One Maryland One Book
Project Contact:
Debby Vargas, Library Grants Coordinator (LSTA), Maryland State Library
443-317-3942
debby.vargas@maryland.gov
Andrea D. Lewis, Program Officer, Maryland Center for the Book, Maryland Humanities
410-685-6161
alewis@mdhumanities.org
Website: https://www.mdhumanities.org/programs/one-maryland-one-book/
Resources: