September 30, 2020
Transforming a Library, Changing Lives: Empowering At-Risk Youth to Become Leaders
How Mentorship and After-School Clubs are Lifting Up Young People in Georgia
"It has been a great experience working with community groups to connect with individuals through a trauma-informed environment."
—Valerie Bell, Executive Director, Athens Regional Library System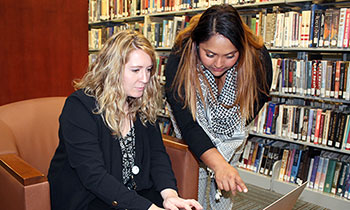 The Athens-Clarke County Library in Georgia strives to be a community hub and inclusive space, to embrace a diversity of viewpoints, and to assist everyone who walks through their doors. But not everyone seeks out the library's services, even when they seem readily available. Traumatic experiences, such as homelessness, poverty, housing insecurity, and mental and physical health issues can prevent members of the community from accessing social resources.
In Athens-Clarke County, young women with unstable home environments in particular don't have access to inclusive spaces where they can practice skills essential for personal growth and development. An interview with a counselor in the local school district suggested that many students in the community struggle to cope with the trauma of broken families and dysfunctional home lives.
The Athens-Clarke County Library and the University of Georgia's School of Social Work teamed up to affect positive change in their community by addressing societal disenfranchisement and female childhood trauma. The resulting project, Trauma-Informed Library Transformation (TILT), was funded through a National Leadership Grant for Libraries, part of IMLS's Community Catalyst Initiative.
The project's aim was to move the library toward a more trauma-informed approach—centered on understanding the physical, social, and emotional impact of trauma on the individual as well as on the staff who help them—and to establish a sustainable system for training the library's staff and partners.
Students from the School of Social Work were placed in the library to share information with at-risk community members about social services that can help them keep their lives on a positive course.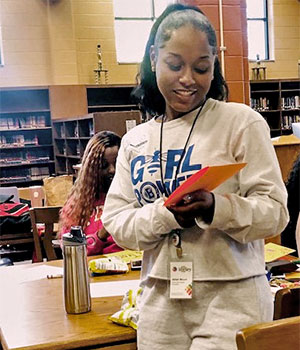 Helping Young Adults Stay on Track
It isn't just the library and the university working together to accomplish common goals. Dozens of community partners are engaged in TILT to make the library a "hub" for local resources.
One community partner is B.E.E. Club Inc. (Becoming Empowered through Education), which works to engage high school girls in Athens-Clarke County. It provides students with the tools and resources to become leaders in their schools and communities.
"There are a lot of programs for at-risk young men, but not as many in the community for young women in high school who may experience social disenfranchisement for a variety of reasons," said Valerie Bell, Executive Director, Athens Regional Library System. "B.E.E. Club is a year-long after-school program that teaches leadership skills to teen girls, including written and oral communication, relationship building, self-esteem, conflict resolution, and teamwork."
Another partner organization—Chess and Community—is focused on mentoring at-risk youth through teaching them chess and the value of its motto, "Think before you move." The club integrates this concept with life lessons as well as the game of chess.
The library was able to provide Chess and Community with a life-sized chess board and game pieces to make activities more interactive. Since the COVID-19 pandemic began, the library has purchased online resources to help continue the organization's activities online.
Adjusting to the Pandemic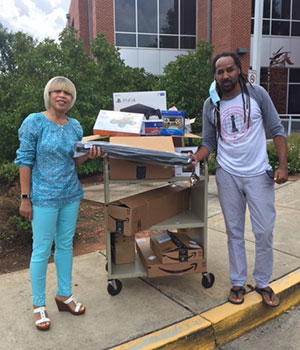 For now, in-person activities offered through the library have been suspended due to the COVID-19 pandemic. A student bus trip to the Montgomery Justice and Peace Museum, previously scheduled for March, has been postponed until spring 2021.
The project's response to COVID-19 had the positive impact of getting students access to their own library cards.
"The library connected and partnered with the public school system to work out a program for students to get library cards, and the Board of Trustees waived all fines accrued by their parents with previous cards," said Bell.
Athens public schools are operating virtually for now, and the library is working hard to get students access to these library cards, as well as offering digital activities to supplement distance learning during the school year.
Inventing New Ways to Connect
With the funds remaining from the IMLS grant, Bell is excited to develop a new community coalition of nonprofit groups in the area interested in racial justice and anti-racism. Building on the original vision of TILT, this project also would work to create a trauma-informed, inclusive, and welcoming space where community members can connect.
Currently, 12 community groups have joined, and Bell has invitations out to 20 more. The coalition is still in preliminary planning stages, but Bell's vision is that it would host an event or series of events to facilitate discussions around racial justice and anti-discrimination in the Athens community.
"There are a lot of nonprofits in Athens, but they work independently," Bell said. "I want to bring these groups together to expand efforts and reach and create great networking opportunities."
About the Project
Grant Project Name: Trauma-Informed Library Transformation (TILT)
Grant Log Number: LG-94-18-0264-18
Year Awarded: 2018
Recipient: Athens-Clarke County Library
Project Contact:
Valerie Bell
vbell@athenslibrary.org
Website: http://www.athenslibrary.org/
Photos courtesy of the Athens-Clarke County Library
Program
National Leadership Grants for Libraries