Strategic Plan FY 2022–2026
Notice To Announce Request for Information to Assist in the Development of the Institute of Museum and Library Services' 2022–2026 Strategic Plan. The deadline for comments is August 6, 2021.
IMLS wants your ideas on how we can carry out our statutory responsibility "to ensure the availability of museum, library, and information services adequate to meet the essential information, education, research, economic, cultural, and civic needs of the people of the United States." IMLS is currently working on a five-year strategic plan, as required by the Government Performance and Results Act and GPRA Modernization Act.
IMLS wants to leverage its programs, research and data collections, resources, and relationships to:
Champion lifelong learning
Strengthen community engagement
Advance collections stewardship and access
Demonstrate excellence in public service
IMLS asks you to consider the following strategic questions to help envision future services:
How can museums and libraries broaden participation in learning opportunities for people of all ages, backgrounds, and needs?
What essential skills will museum, library, and archives professionals need over the next five years to address changes to their work?
How can museums, libraries, and archives better use outreach and partnerships to serve their communities?
What practices and tools in museum, library, and archives collections management, care, and access need to be updated or reinvented, and how?
What research and data are needed to help museums and libraries work more effectively for the benefit of the communities they serve?
We welcome your general comments on these and any other topics that you find relevant to the development of the IMLS Strategic Plan. Responses are due to strategicplanning@imls.gov by Friday, August 6, 2021.
The agency's current strategic plan is still available:
---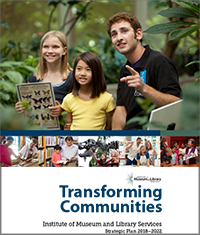 Transforming Communities: IMLS Strategic Plan, 2018–2022 (PDF, 4.59MB). The brochure provides an overview of the agency mission, vision, goals, and objectives, and includes highlights of IMLS initiatives and projects.