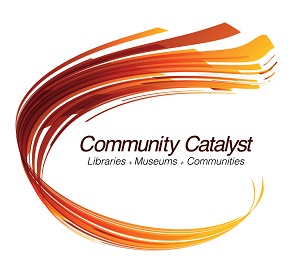 By Office of Communications and Government Affairs Staff
The Institute of Museum and Library Services (IMLS) kicked off a Town Hall conversation today as part of its Community Catalyst Initiative that focuses on ways museums and libraries can serve as catalysts in communities.
About 65 participants from the library, museum, philanthropic and community revitalization fields gathered for the two-day town hall in Philadelphia. Their charge was to provide feedback about potential tools and frameworks needed to help transform the connections libraries and museums have with their communities.
The project cooperator is Reinvestment Fund, a community development financial institution that uses data, policy, and strategic investments to improve the quality of low-income neighborhoods. The cooperator will receive assistance from the University of Pennsylvania's Social Impact of the Arts Project (SIAP). IMLS is also pleased to partner with the William Penn Foundation in this effort.
The town hall is just one phase of the effort to gather input. On Tuesday, Sept. 13, at 2pm EDT IMLS will host a Twitter Chat with Director Dr. Kathryn K. Matthew to learn more from the field. The public is encouraged to comment using the hashtag #IMLSCatalyst.
| | |
| --- | --- |
| Keynote speaker Rev. Starsky D. Wilson addresses town hall participants. Photo by Michael Davis Jr. | Donald Hinkle-Brown, president and CEO of Reinvestment Fund gives his remarks during the town hall meeting. Photo by Michael Davis Jr. |
At today's town hall kickoff, Matthew told participants that the initiative was about "taking energy and combining it with resources to create transformation."
"Your perspectives and reflections and ideas, your reactions to the common themes are very important milestones in helping IMLS understand what is the potential," Matthew told participants. "You represent communities as well as your institutions."
Donald Hinkle-Brown, president and CEO of Reinvestment Fund, told participants that the IMLS use of the word "catalyst" was an important shift from previous uses of the word "anchor."
"We thought of anchor institutions as immovable objects," said Hinkle-Brown. "Catalysts are partners of place. You guys are doing a new form of community development work."
Indeed, William Penn Foundation executive director Laura Sparks told the group how libraries and museums in Philadelphia were already doing "local innovation."
| | |
| --- | --- |
| Laura Sparks, executive director for the William Penn Foundation, speaks to town hall participants. Photo by Michael Davis Jr. | Rev. Starsky D. Wilson speaking on libraries and museums serving as catalysts in communities. Photo by Michael Davis Jr. |
"There are some wide ranging ways that libraries and museums in Philadelphia are functioning as community catalysts," Sparks said, pointing out that libraries have become "the primary portal for many in our community to get access to social services, to learn English . . . for 70,000 children in this city to find a safe haven after school, incubator spaces for small businesses."
The keynote speaker for the opening session was Rev. Starsky D. Wilson, president and CEO of Deaconess Foundation and co-chair of the Ferguson Commission. The Ferguson Commission was a group of 16 citizens empowered to study the underlying conditions and make public policy recommendations to help the region progress through issues exposed after the death of Michael Brown Jr. 
"We have a problem of shrinking public space, places where we may dialogue, spaces where we may grow," Wilson told the town hall as he detailed the growing need in communities for sanctuary, stories and sources.
Wilson recounted seeing copies of the Ferguson Commission report on a shelf at his local library "I remember walking and seeing copies of the commission report, treated as if it had an ISBN number . . .  inviting people to read and to engage."
"The library became a resource and a source for people to get this information," Wilson said. "I began to wonder could it become a source of accountability."
To learn more about the Community Catalyst Initiative, follow #IMLSCatalyst on Twitter, Facebook and Instagram or visit our webpage.