Full Body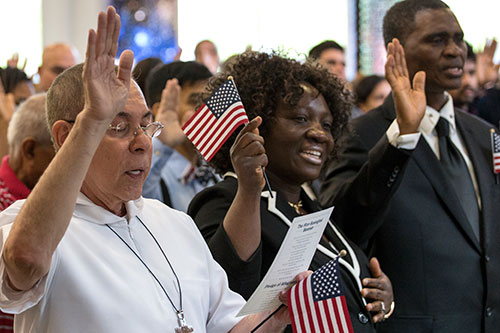 IMLS has a proud legacy of supporting the critical work that museums and libraries do to engage the citizens in their communities and expand access to and information on voting.
As two of the most trusted institutions in the U.S., libraries and museums have long served various communities on a national, state, and local level, including providing civic education, educational programs about democracy, and offering their facilities as voter polling places and for American citizen naturalization ceremonies.
For more information, including forthcoming resources for museums and libraries, please subscribe to IMLS updates.
Jump to:
Executive Order
On March 7, 2021, President Biden issued Executive Order 14019, Promoting Access to Voting. The Executive Order recognizes that the right to vote is the foundation of American democracy and the responsibility of the Federal Government to expand access to, and education about, voter registration and election information, and to combat misinformation, in order to enable all eligible Americans to participate in our democracy.
On September 28, 2021, and in response to the Executive Order, the White House called upon IMLS to "create and distribute a toolkit of resources and strategies that libraries, museums, and heritage and cultural institutions can use to promote civic engagement and participation in the voting process."
Partnerships
Examples of IMLS Funding for Civic Engagement
Museums
Libraries
State Libraries
Examples from the Library and Museum Fields
Providing Voter Registration
Serving as a Polling Place
Exhibits and Programs
Providing Information in Other Languages
Resources for Libraries and Museums
Government Information
Non-Profit Organizations
Library Associations
Museum Associations
Accessibility Resources for Voters with Disabilities
Resources listed above provide examples of how libraries and museums are supporting civic engagement and voter participation in their communities. This list is not exhaustive, but rather reflects some of the many resources available. If you have additional examples, please email imlsnews@imls.gov.