Tuesday, September 24, 2013
FOR IMMEDIATE RELEASE

Second Annual Class of National Student Poets Appointed to Serve One Year
as Literary Ambassadors
Class of Five High School Writers Selected by White House Committee for the National Student Poets Program, the Nation's Highest Honor for Youth Poets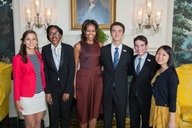 First Lady Michelle Obama with the 2013 National Student Poets (from left: Michaela Coplen; Sojourner Ahebee, Nathan Cummings, Louis Lafair, and Aline Dolinh) in the Diplomatic Reception Room of the White House, Sept. 20, 2013. (Official White House Photo by Lawrence Jackson.) Click image for a larger view.
Washington, DC –During a special ceremony at the National Book Festival this past weekend, five distinguished teen poets emerged as national literary leaders and were appointed as the second annual class of the National Student Poets Program (NSPP), the nation's highest honor for youth poets presenting original work.
Sojourner Ahebee, age 17 of Interlochen, MI; Michaela Coplen, age 17 of Carlisle, PA; Nathan Cummings, age 18 of Mercer Island, WA; Aline Dolinh, age 15 of Vienna, VA; and Louis Lafair, age 18 of Austin, TX will serve one year as literary ambassadors, during which time they will share their work and engage audiences of all ages in the art of poetry. By doing so, these poets demonstrate the essential role of writing and the arts in academic and personal success.  The program celebrates teens as makers and doers and is a signature initiative of the President's Committee on the Arts and the Humanities in partnership with the Institute of Museum and Library Services (IMLS), and the nonprofit Alliance for Young Artists & Writers.
"What these young people learn through reading and writing poetry doesn't just spark their imagination, it also broadens their horizons, both today and for the rest of their lives," said Honorary Chairman of the President's Committee, First Lady Michelle Obama. "Our National Student Poets are seeing, hearing, experiencing and shaping a vision of the world around them, and they are motivating others to do the same. With this award, we celebrate their passion, dedication and creativity." To start off their year of ambassadorship and service, Mrs. Obama pinned the National Student Poets and met with their families at the White House.
National Student Poets are selected every year from among students grades 9–11 who receive national medals in the Scholastic Art & Writing Awards, the nation's longest-running and most prestigious scholarship and recognition initiative for creative teens. This year's distinguished jurors included Richard Blanco (poet), Robert Casper (Head of Poetry and Literature Center, Library of Congress), Andrea Gibson (poet), Kimiko Hahn (poet), Joy Harjo (poet), Terrance Hayes (poet), David Lynn (Editor, The Kenyon Review), Alice Quinn (Executive Director, Poetry Society of America) and Rose Styron (poet), who each evaluated student submissions based on exceptional creativity, dedication to craft, and promise.
Representing five regions of the country, the National Student Poets will participate in readings and workshops at libraries, museums and schools in their various states, as well as create community service projects to expand their reach while increasing engagement in the literary arts.
During the NSPP inaugural year of 2012, the poets participated in the prestigious Dodge Poetry Festival and designed activities and events for diverse audiences, such as initiating poetry workshops for homeless youth, partnering with the East Harlem Tutorial Program to support children's writing skills, and in Birmingham, AL, collaborating on workshops focusing on the power of words in effecting change, honoring the Civil Rights Movement.
"As a mentor of the inaugural class of National Student Poets, I was initially impressed with their talent while judging their work, then ultimately blown away by their passion and growth throughout the year as we worked together," noted Terrance Hayes, recipient of the 2010 National Book Award for poetry and a National Student Poets Program juror. "It was a memorable year and I can't wait to see what this new class is capable of as their work invokes a passion for social justice and beauty. I have no doubt they will be able to inspire more young people and build awareness for the importance of artistic expression and literacy." 
Each National Student Poet will receive an academic award of $5,000, funded by the Bernstein Family Foundation, and serve as a resource for the U.S. Department of Education and the Library of Congress. Students in grades 9–11 who are interested in becoming National Student Poets can submit their work to the Scholastic Art & Writing Awards throughout the fall. In the spring of 2014, the National Award winners in Poetry will then be eligible for the Program. More information on the National Student Poets Program can be found at www.artandwriting.org/NSPP.
###
The National Student Poets Program is a signature initiative which reflects the national imprimatur of the President's Committee on the Arts and the Humanities in advancing arts education, links the National Student Poets with audiences and resources in their neighborhoods through the Institute of Museum and Library Services' community-based network of libraries and museums, and builds upon the Alliance for Young Artists & Writers' long-standing work with educators and creative teens through the prestigious Scholastic Art & Writing Awards. The program works in coordination with the Library of Congress and the U.S. Department of Education and the academic awards are generously provided by the Bernstein Family Foundation. More information on the Program can be found at www.artandwriting.org/NSPP.
The President's Committee on the Arts and the Humanities (PCAH) is an advisory committee to the White House on cultural issues. Its core areas of focus are arts and humanities education, cultural exchange, and community revitalization. First Lady Michelle Obama, like other first ladies before her, serves as honorary chairman of the committee. www.pcah.gov
The Institute of Museum and Library Services is the primary source of federal support for the nation's 123,000 libraries and 17,500 museums. Our mission is to inspire libraries and museums to advance innovation, lifelong learning, and cultural and civic engagement. Our grant making, policy development, and research help libraries and museums deliver valuable services that make it possible for communities and individuals to thrive. To learn more, visit www.imls.gov and follow us on Facebook and Twitter.
The Alliance for Young Artists & Writers, a 501(c)(3) nonprofit, identifies teenagers with exceptional creative talent and brings their remarkable work to a national audience through the Scholastic Art & Writing Awards. Founded in 1923, the Awards program is the longest-running, most prestigious initiative of its kind, having fostered the creativity and talent of millions of students through recognition, exhibitions and publications. Over the past six years alone, students have submitted more than a million works of art and writing and more than $30 million has been made available in scholarships and awards to top winning participants. www.artandwriting.org.
This official White House photograph is being made available only for publication by news organizations and/or for personal use printing by the subject(s) of the photograph. The photograph may not be manipulated in any way and may not be used in commercial or political materials, advertisements, emails, products, promotions that in any way suggests approval or endorsement of the President, the First Family, or the White House.