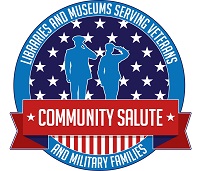 Editor's Note: In September, IMLS announced a cooperative agreement with FSG to strengthen the ability of libraries and museums to fulfill the unique and critical needs of veterans and military families. Through the Community Salute program, IMLS will gather information from a variety of key stakeholders in the library, museum, and military communities; identify opportunities for enhancing community services; and develop frameworks, tools, and resources to strengthen the role libraries and museums have in addressing the specific needs of veterans and military families. This is the latest in a series of Community Salute blogs highlighting the role that many libraries and museums already play in the lives of veterans and military families.
By Sarah Jesse
Los Angeles County Museum of Art
What is it really like to serve in the military today? Chances are, most people couldn't say. This is hardly surprising, given that only one percent of the population is currently serving. For many civilians, the military and veteran community is largely invisible. Consequently, it can be prone to stereotyped and sensationalist portrayals. Without other perspectives balancing the dominant narrative, the military and veteran experience can appear excessively negative and one-dimensional.
The Los Angeles County Museum of Art (LACMA), in partnership with the Los Angeles Public Library, seeks to bridge this divide through Veterans Make Movies. Launched with an IMLS grant, the initiative teaches veterans how to tell their stories in film, leveraging the capacity of the medium to communicate in ways beyond cliché and overgeneralization.
Just as there are countless motivations behind why people join the military, there is not one archetype of who joins or only one kind of "coming-home" story. While some service members report that returning to civilian life is a struggle, others re-integrate relatively unscathed. As with most transformative experiences in life, many veterans are unsure of how to characterize their time in the military and their transition out of service.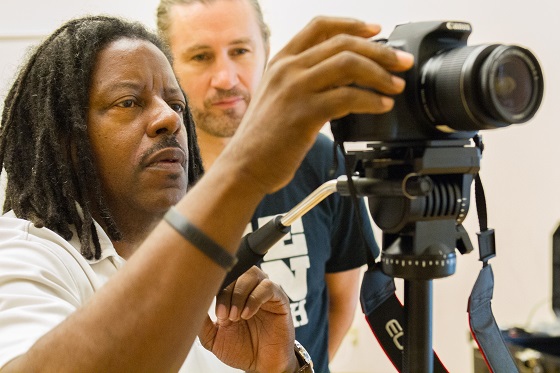 Irresolution, complexity, ambiguity—these are "sweet spots" for film. LACMA educator Hank Hughes, who teaches the program, understands firsthand the power of the filmmaking process to spur its creator to examine unresolved feelings. The Oscar-nominated filmmaker and former paratrooper explains, "After entering a fight-or-flight mode a few times, your perspective changes as much as your physiology. It's hard to describe, and this breakdown in language calls for creative expression."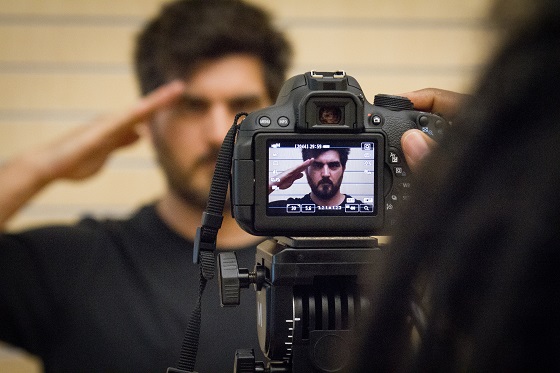 Satinder Kaur, another LACMA educator for the program and Army veteran, also recognizes the value of the creative process in making sense of profound and extraordinary experiences. "The veteran experience is unique in that we have been forced to confront our mortality because we've been in places where we had little to no security. Experiences like that set you on a path to wrestle with the meaning of things, and that wrestling manifests itself in creative expression."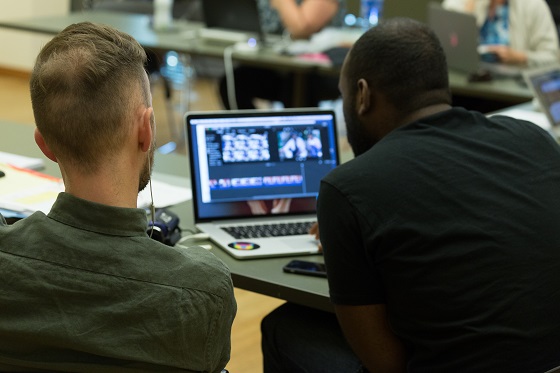 Hughes, Kaur, and other LACMA educators teach Veterans Make Movies participants the technical aspects of filmmaking: how to write, shoot, and edit. But most importantly, they impart how to hone one's point of view and exploit the capacity of film to communicate, even if the message isn't always clear-cut.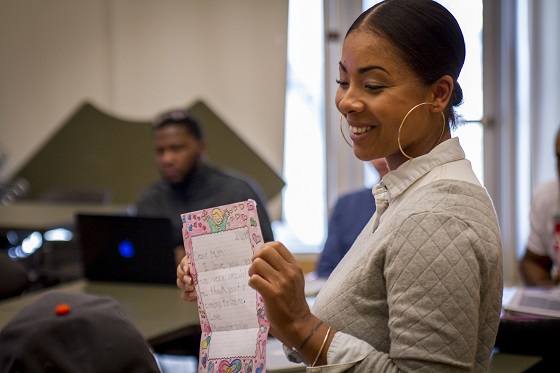 One participant uses film to explore the guilt he feels for having never experienced combat by asking, "What makes a veteran?" Another veteran wrestles with the uniform as a symbol of what is both lost and gained when individual identities morph into a collective body. The diverse content of the films reflects the heterogeneity of the veteran community and collectively create a richer, more nuanced view of the military and veteran experience. In the words of one participant, Veterans Make Movies "satiates a burning desire to tell our lived experiences from our perspective." This is the power of film for both the maker and viewer, and the essence of the Veterans Make Movies initiative.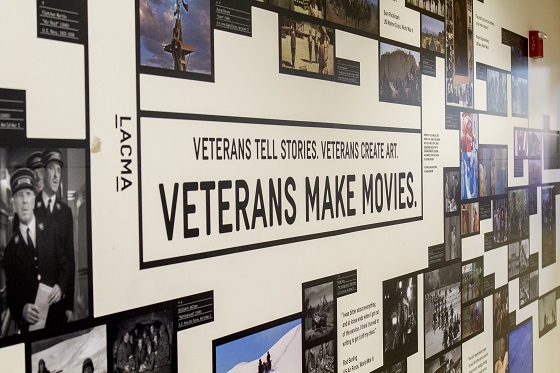 Veterans Make Movies was made possible in part by the Institute of Museum and Library Services, Sony Pictures Entertainment, and The Albertsons Companies Foundation and The Vons Foundation.
About the Author
Sarah Jesse is associate vice president of education for the Los Angeles County Museum of Art.