Amanda Lange
Director of the Curatorial Department and Curator of Historic Interiors
Historic Deerfield
Editor's Note: In 2013, IMLS awarded Historic Deerfield, in Deerfield, MA, a $71,722 Museums for America grant. The museum described the conservation work in the Autumn 2017 issue of Historic Deerfield, excerpted with permission below.
Stewardship of buildings and collections is a trust that all museums should uphold, and Historic Deerfield is no different. In 2013, the museum received a Museums for America grant from the Institute of Museum and Library Services (IMLS), an independent federal agency charged with creating strong libraries and museums that connect people to information and ideas. The grant enabled the museum to conduct a General Conservation Survey of Historic Deerfield's museum buildings and their nationally important collections of New England furniture, early American silver, English, Chinese, and American ceramics, New England textiles and fashion, and related decorative arts.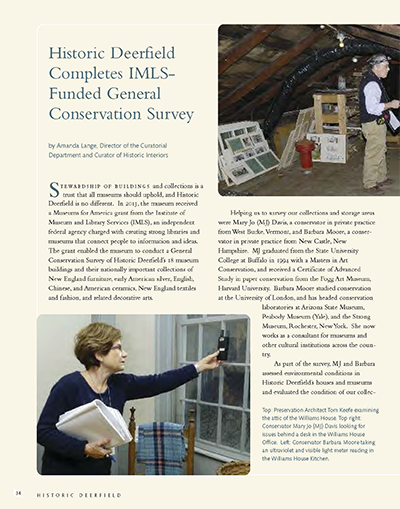 The efforts of our three consultants provided detailed information about each [of our 13 historic] buildings and the collections displayed and stored within, as well as a prioritized list of projects to help us plan for the next ten to fifteen years of future work.
Museum staff will work on issues relating to storage and workspaces, upgrading existing security systems, gaining better control over the environmental conditions in the historic houses, and focusing on collections stored in barns.
Based on the recommendations of the Conservation Survey, Historic Deerfield has already received two National Endowment for the Humanities Preservation Assistance grants for environmental monitoring equipment and enhanced emergency preparedness training.
Read the full article [PDF, 112 KB]