Facing Challenge with Resilience: How Museums are Responding During COVID-19
Online Educational Resources, Virtual Visits, Community Service Among Ways Museums are Adapting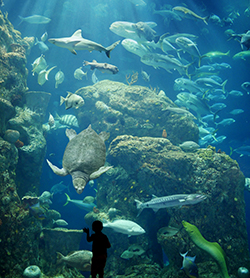 A visit to a museum can be educational, inspiring, calming, or encouraging. Museums bring people together, expand our horizons, teach us about the world, and provide moments of peaceful reflection.
At a time when our nation is facing a pandemic and community needs have abruptly changed, museums have quickly adapted to continue serving their communities. Even with their physical locations closed, museums of all kinds are offering free online learning resources, access to their digital collections, virtual tours, and online exhibits—all invaluable opportunities to educate and connect people across the world.
How Museums are Responding
Supporting Education: Museums have long been leaders in informal learning. Today, students can continue learning away from the classroom through hundreds of online resources that museums are offering. There's no shortage of topics, from animal habitats and science to art history and wildlife biology and architecture.
Many museums also offer age-specific resources. Here are a few examples of museums, among hundreds, who have extended their physical experience to the digital world.
Promoting Culture and the Human Experience: Museums are offering many virtual engagement opportunities, such as tours, online art, and guided digital experiences.
Giving Back to the Community: In addition to boosting online learning resources, such as story times, history activities, and audiovisual exhibits, many museums are supporting state emergency response efforts during this crisis. Take History Colorado and its member museums, for example:
Supporting Museum Staff:
You can search for more opportunities on social media with #museumsfromhome.
Resources
Our COVID-19 Resources for Museums and Libraries page provides additional resources compiled by some museum associations. You can find official government information from the CDC, OSHA, and the EPA, among others, on the main COVID-19 Updates page, which will also include the latest updates on IMLS funding related to coronavirus.
For More Information
Questions or concerns? Do you have a resource you'd like to share? Please contact us at info@imls.gov or 202-653-IMLS (4657).