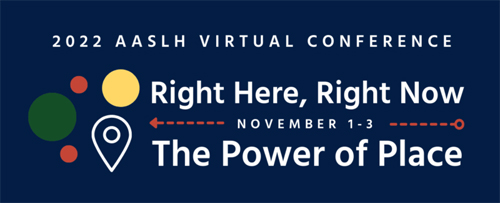 #AASLH2022 Right Here, Right Now: The Power of Place
The American Association for State and Local History will host the 2022 AASLH Virtual Conference on November 1 – 3, 2022. Each day will feature a plenary session followed by concurrent or brown bag sessions.
The Virtual Conference is designed to be an inspirational and informative experience, with flexibility for incorporating emerging issues and broad reach for bringing in more voices.
From Plymouth Rock to Ellis Island to Wounded Knee, history is powerfully embedded in our sense of place. Place offers a powerful lens through which we can view the past, challenging us to think beyond our modern cityscapes to consider the full history of the space we now call the United States.
The conference theme is drawn from "Power of Place," one of the five themes that AASLH has identified for the 250th anniversary of the United States and laid out in its Making History at 250: The Field Guide for the Semiquincentennial.
Visit the AASLH 2022 Virtual Conference website to register and view the program.
AASLH 2023 Annual Conference — September 6-9, 2023 in Boise, Idaho
#AASLH2023: "I, Too, Am America"
The 2023 annual conference will explore the complexities of American identity and its connection to history and history organizations at the 2023 Annual Conference. Learn more at www.aaslh.org.