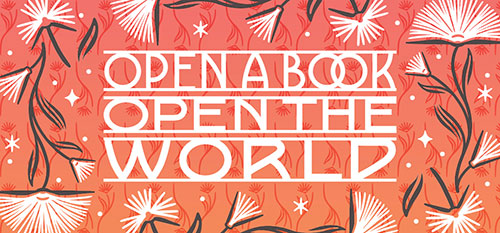 As a Charter sponsor of the 2021 National Book Festival, the Institute of Museum and Library Services helped make the festival's theme of "Open a Book, Open the World" a reality. IMLS is a proud sponsor of podcast interviews and videos on demand in the below genres:
A Message from IMLS Director Crosby Kemper
IMLS Director Crosby Kemper provides brief remarks about the 2021 National Book Festival, the agency's history of support, and what the festival's theme "Open a Book, Open the World" means to libraries across the country.
PBS Special
https://www.pbs.org/show/library-congress-national-book-festival/
NBF in your area
Since the National Book Festival is unable to hold a physical "Parade of States" environment this year, we have collaborated with state libraries and State Centers for the Book to develop local events that celebrate the book festival in your backyard. Click here to view a listing of events in your area. Are you a library that is holding a literacy event during the National Book Festival period (9/17-9/26)? Tell us all about it using the #NatBookFest hashtag on social media.
About the National Book Festival
Since its inception in 2002, the "Parade of States" at the National Book Festival has been a collaborative effort of the Center for the Book and IMLS to promote libraries, literacy, and reading. Primarily through the support of IMLS, representatives from State Libraries and Centers for the Book across the country staff State tables, interact with enthusiastic festival attendees (adults and children), and provide a wealth of information on their State's literary heritage and its local libraries, book festivals, activities dedicated to promoting local authors and reading, and careers and opportunities in library and information science. Whether in person or virtual, IMLS's participation in the National Book Festival endeavors to present a balance of State literary heritage topics, as well as informing the public of impactful and important services provided by the Nation's State Libraries. Click here to learn more about the National Book Festival.