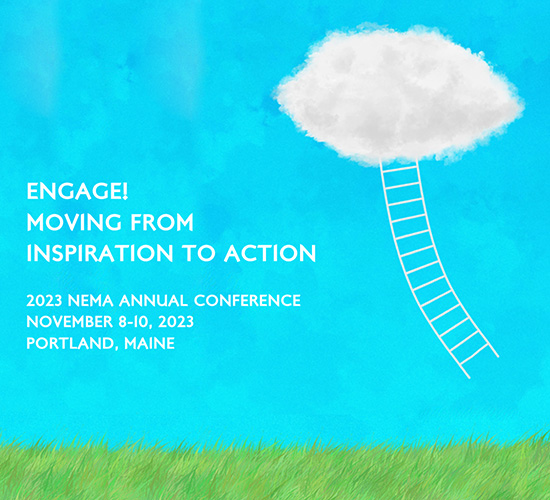 New England Museums Association (NEMA) 2023 Annual Conference
Engage! Moving from Inspiration to Action
November 8-10, 2023
The NEMA conference is the main regional resource for New England museums to share best practices, connect colleagues, and inspire careers. The event serves as the primary annual gathering for many of the rural museums with limited resources across New England. IMLS looks forward to connecting with you and other institutions to share information on our funding opportunities.
Visit booth #6 in the Exhibit Hall, to discuss our grant programs, initiatives, and publications, and meet key staff members from the Office of Museum Services and the Office of Communications.
SESSIONS FEATURING IMLS-FUNDED PROJECTS
Friday, November 10, 10:30 AM - 11:30 AM Visitors as Detectives, Investigators, Historians: The Walsh House Re-Interpretation at Strawbery Banke Museum
"Interacting with things and solving a puzzle with artifacts was compelling—NOT simply looking or being TOLD." This quote shows the engagement—and happy surprise—visitors felt stepping into the re-interpreted Walsh House. Presented with historical "mysteries", visitors set about to discover clues throughout the house and garden. We will discuss goals—to create an active, discovery-based approach to historical interpretation—staff planning, curatorial and educational issues, and evaluation of this IMLS funded project.
Speakers:
Jonathan Brown, Director of Visitor Services and Interpretation
Strawbery Banke Museum, NH
Alexander Goldowsky, Principle, Interact LLC, MA
Amy Hufnagel, Director of Programs & Visitor Experience, Harriet Beecher Stowe Center (Senior Consultant, Walsh House Project), CT
Event Location
Holiday Inn by the Bay
88 Spring Street
Portland, Maine