Date Time:
June 20, 2019 8:00 AM ET to 5:00 PM ET
Tribal Libraries Convening
Guiding IMLS Funding to Meet the Needs of Tribal Librarians and Their Communities
The Tribal Libraries Convening brought together a group of stakeholders, including Native American Library Services grantees and federal partners to celebrate and reflect back on multiple milestones in funding for tribal libraries, as well as to explore new needs moving forward.
The goals of the convening were to:
explore how to strengthen IMLS grant programs for tribal libraries in order to best support tribal librarians and the communities they serve
determine areas of need for capacity building
assist in the development of future funding opportunities
cultivate additional applications
IMLS will develop a report after the meeting that will highlight issues discussed, summarize overarching themes that emerged during the Convening, and encourage future grant proposals to address field-wide concerns.
WEBCAST
Registration for the event's Live Webcast has ended.
Watch the full event on YouTube.
AGENDA
8:00 AM – 8:30 AM
Breakfast
Convening attendees can write down "Burning Issues" they would like to address
Logistics: Dr. Sandra Toro, IMLS
8:30 AM – 9:00 AM
Welcome
Dr. Kathryn K. Matthew, IMLS Director
Dr. Cynthia Chavez Lamar, Assistant Director for Collections, Smithsonian's National Museum of the American Indian
9:00 AM – 10:00 AM:
Introductions
Kelcy Shepherd, IMLS
10:00 AM - 10:30 AM
The Evolution of Library Services for Native People: A Timeline
Dr. Sandy Littletree, University of Washington
10:30 AM – 11:00 AM
20 Years of IMLS Native American Library Services Funding: Trends
Dr. Sandra Toro, IMLS
11:00 AM – 11:45 AM
Listening Session
Dr. Loriene Roy, University of Texas at Austin, and Dennis Nangle, IMLS
11:45 PM – 12:00 PM:
Exhibit Overview
Elayne Silversmith, Branch Librarian for the Vine Deloria, Jr. Library located in the National Museum of the American Indian's Cultural Resources Center in Suitland, MD
12:00 PM – 1:00 PM
Lunch

Attendees can meet with representatives from Federal agencies
Attendees can visit two exhibitions on the fourth floor:

1:00 PM – 1:45 PM
Breakout Sessions Part I
1:50 PM – 2:35 PM
Breakout Sessions Part II
2:35 PM
Break
2:55 PM – 3:40 PM
Breakout Sessions Part III
3:45 PM
Sharing Out by Facilitators
4:45 PM - 5:00 PM
Wrap up and Closing Remarks
Dr. Sandra Toro
DOWNLOADS
Download the detailed agenda (PDF, 74.9KB)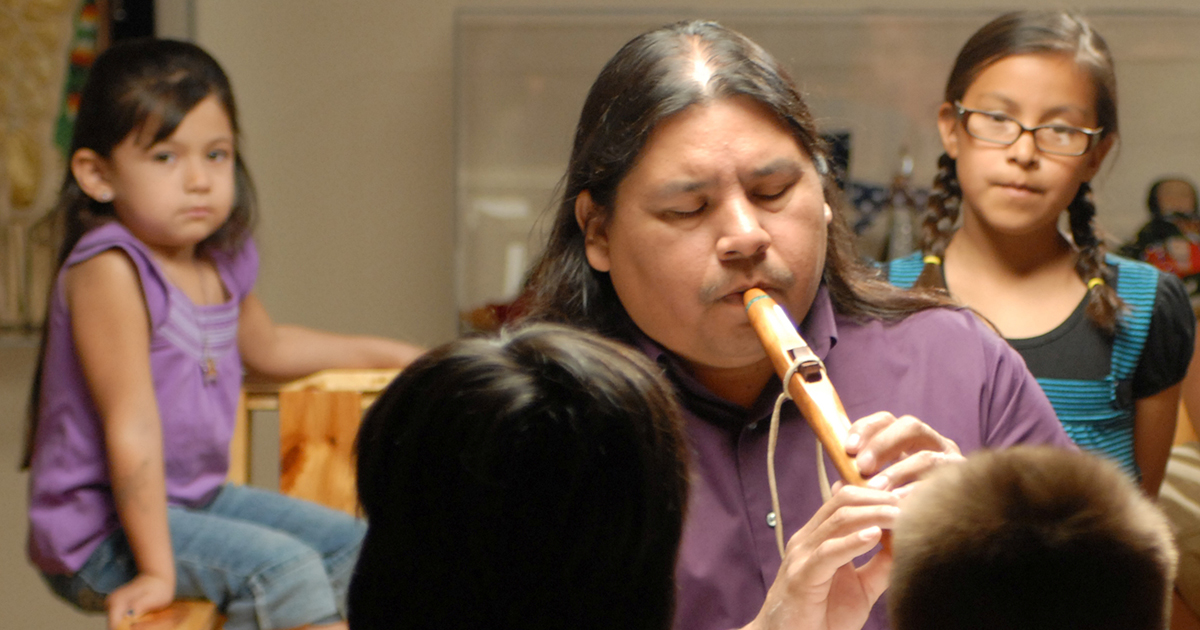 Programs:
Native American Library Services