May 31, 2017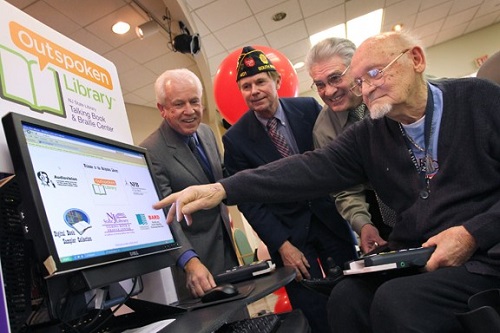 Project Snapshot
Grant Program Name: Grants to States
FY 15 Amount for NJ Library TBBC: $1,733,539
Recipient: New Jersey State Library Talking Book and Braille Center
"The one thing we have done at TBBC is to offer veterans the ability to read by meeting them where they are. This program has allowed us to see the improvements in veterans' lives by just being able to read a book." – Adam Szczepaniak, Deputy State Librarian and Director, New Jersey State Library - Talking Book & Braille Center
Opening Eyes and Minds to Reading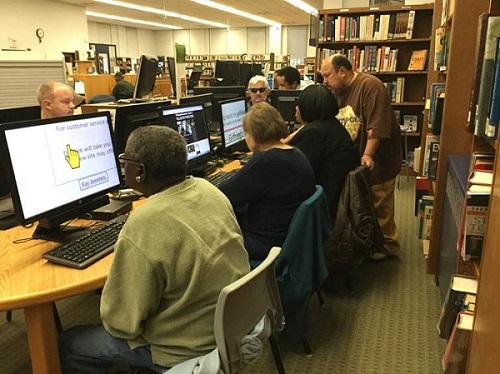 The Talking Book & Braille Center (TBBC), a division of the New Jersey State Library, has recognized the importance of widening access to reading for those who need it. Through programs that touch New Jersey residents who experience a myriad of physical, learning, and visual impairments that keep them from enjoying a book, TBBC has gone to great lengths to redefine how an individual can read in the 21st century.
TBBC provides no-cost, home delivered services to the state's print-disabled population, or any resident who cannot read either because of a visual impairment or a physical condition that hinders their ability to hold a book. As their mission has expanded, TBBC has integrated assistive technology training to broaden service impact.
Through their partnership with the New Jersey Commission for the Blind and Visually Impaired, TBBC added their accessibility programs to seven public libraries. Further collaboration with the New Jersey State Library's Library Equal Access Program (LEAP) allows TBBC to provide free computer and iPad training classes at assistive learning centers across New Jersey. Instruction, geared for individuals 55 years or older, focuses on reading magnification and speech software to enable participants to read more effectively on computers and introduces participants to built-in assistive technology in Apple's operating system on mobile and iPad devices.
"I am a believer that public libraries are learning centers for new technology," said Adam Szczepaniak, Deputy State Librarian and Director, New Jersey State Library - Talking Book & Braille Center. "These initiatives help boost levels of learning to include not only assistive software for those with vision impairments but training as well."
Enhancing Veterans' Quality of Life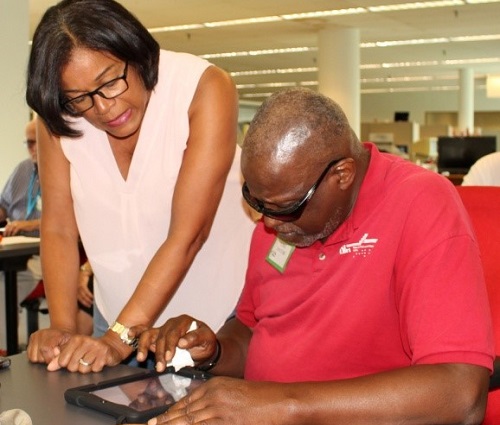 Throughout its history, TBBC has expanded its services to New Jersey public schools, public libraries, and to veterans through partnerships with New Jersey's Department of Military and Veteran Affairs and the U.S. Department of Veterans Affairs. With funding from IMLS, TBBC provides access to assistive technology programs that bridge the digital divide between veterans and new technologies that can assist in their daily living.
TBBC assists veterans across New Jersey with the support of a variety of collaborations and programs. Through their partnership with the VA New Jersey Health Care System at Lyons, TBBC offers the Vision Impairment Services Outpatient Rehabilitation (VISOR) Program that provides TBBC's services directly to the system's clients. The Vision Impairment Service Team offers the services of rehabilitation workers who are able to make home visits and assessments for VISOR clients, expanding the reach of TBBC's programming.
In 2016 TBBC received a grant from Disability Rights New Jersey for partnering with Advancing Opportunities to teach veterans how to use assistive technology features on iPads. Little-known accessibility features for those with hearing, physical, learning, or vision impairments are built into Apple's iOS operating system for mobile devices. Training includes finger navigation, magnification, and text-to-speech features. Classes are small to maximize learning opportunities and lesson impact.
"By bringing TBBC's services to inpatient centers and homes, our programs can enrich veterans' quality of life," said Mary Kaplan, Adult Outreach Services Coordinator at TBBC.
To date, TBBC has 678 members who self-identify as a veteran. But TBBC staff know there are many more. "People may not identify themselves as veterans. That is why a 'boots-on-the-ground' approach to outreach is needed," said Kaplan.
An Outspoken Library: You Served Us. Now Let Us Serve You.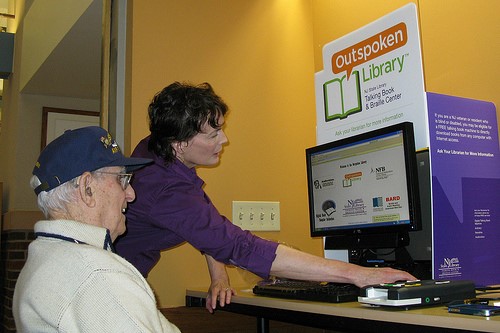 As their veterans program became more successful, TBBC embarked on a new, innovative project that strengthens veteran involvement in TBBC's services. In 2010, TBBC's Outspoken Library deployed web-based kiosks and computer workstations with 825 preloaded books to three nursing homes administered by New Jersey's Department of Military and Veterans Affairs and one at the Lyons Campus of the U.S. Veterans Administration.
Outspoken Library assists visually-impaired veterans with both their ability to obtain talking books as well as computer training on accessibility software by staff at Lyons. The program provides four to six weeks of residential training for visually-impaired veterans on life skills including reading. "The Outspoken Library gives veterans what they need to stay in touch with the world," said Szczepaniak.
Burgeoning, Regional Approach
TBBC's work will never be finished. Staff constantly develop new approaches to reach people across the state and are planning a regional approach that would integrate their services into already established programs at libraries in neighboring states to assist more individuals with visual impairments that prevent reading. Partnering and coordinating efforts with sister libraries will help supplement existing programming that goes beyond helping individuals read, to helping with workforce development and other training opportunities not available before.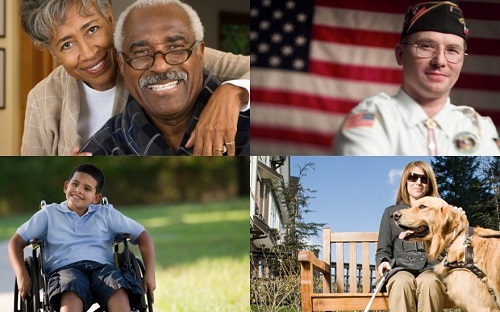 TBBC also recognizes the importance of bringing issues of visual impairment to local, state, and federal representatives. "A lot of people share with their Congressional representatives or state senators that when they have a visual impairment they go into a shell or depression," said Szczepaniak. "Then they recount that our services and programming have helped them reach a point where they can make adaptations that allow them to read again and engage with the outside world."
About the Project
Grant Program Name: Grants to States
FY 15 Amount for NJ Library TBBC: $1,733,539
Recipients: New Jersey State Library
Project Contact:
Adam Szczepaniak, Deputy State Librarian and Director, New Jersey State Library - Talking Book & Braille Center
aszczepaniak@njstatelib.org
609-406-7179 x801
Related Website: http://www.njstatelib.org/talking-book-braille-center/

Program
Grants to State Library Administrative Agencies