Recipient: Children's Museum of Manhattan

Program: Museums for America

Year Awarded: 2012

Grant log numbers: MA-04-12-0078-12

Website:
www.cmom.org/explore/america_zanzibar

Contact: Deirdré Lurie, Director of Strategic Communications
Children's Museum of Manhattan
(212) 721-1223 x229
dlurie@cmom.org
Pictured above: The exhibition's enclosed theater enables families to experience immersive images of the interiors of mosques from around the world.
"Capturing both the diversity and unity in Muslim cultures, America to Zanzibar: Cultures Near and Far truly spans the globe. By exploring how culture is expressed in art forms and everyday life, we spark children's curiosity about other cultures and traditions, and instruct them in how to be culturally competent global citizens."
– Andy Ackerman, Executive Director, Children's Museum of Manhattan
A Celebration of Cultures
Learners of all ages are invited to explore Muslim cultures from around the world in America to Zanzibar: Cultures Near and Far, which opened to the public on February 13, 2016, as part of the Children's Museum of Manhattan's ongoing Cultural Exhibition and Programming Series. Exploring both individuals and communities that identify as Muslim, America to Zanzibar examines the countless ways in which Muslim culture is expressed through the arts, storytelling, and everyday life in the United States and throughout the world.
Among the exhibition's many features, visitors have the opportunity to take an interactive journey through the sights and smells of a traditional marketplace, compare mosque architecture across different countries, and visit a living room where they interact with personal objects and stories from local Muslim Americans.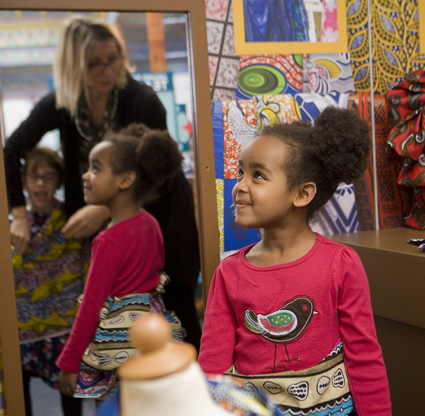 Photo Caption: Families dress in the Senegalese fabrics in the tailor's stall of the global marketplace of America to Zanzibar: Muslim Cultures Near and Far. Photo by: aommiephotography.com
On a life-size Indian Ocean dhow (boat), museum-goers embark on a global voyage through trade routes and commerce, steering the ship to explore international ports. Those wanting to journey by land climb aboard an ornately decorated replica of Pakistani truck, emblematic of the country's growing truck art movement for a caravan across the desert. In a serene Persian style courtyard, guests interact with elements of water, patterns, and other classical courtyard designs found in Muslim communities throughout the world.
In addition to original artwork by emerging American Muslim artists, the exhibition's rich representations of Muslim culture are accompanied by a program series celebrating diverse expressions of identity through numerous speakers and performances. These 30-minute drop-in performances occur twice a day on weekends, during public school breaks, and on holidays.
America to Zanzibar also includes "interactive discovery carts," in which museum educators use a moveable pushcart to introduce visitors to objects, tools, and art materials that offer a deeper exploration of cultural practices and concepts introduced in the exhibit. Whether smelling spices or studying how stars are used for navigation, museum-goers find endless opportunities for engagement. The 30-minute discovery cart programs take place once every hour and occur six times daily in the exhibit.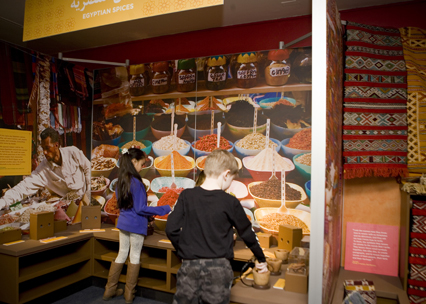 Photo Caption: Families learn about spices from a children's museum educator working off a discovery cart in the America to Zanzibar: Muslim Cultures Near and Far exhibit. Photo credit: Prince V. Baron
Community Voices
Over the course of the exhibit's six-year development, its creators drew from evaluations of the museum's previous installations which explored Chinese, ancient Greek, and Japanese cultures. The museum also engaged with community members, academics, artists, and interfaith leaders who served as important advisors and advocates while informing the exhibit. Through ongoing conversations with key communities, the focal points of America to Zanzibar began to take shape.
America to Zanzibar examines themes of unity and diversity, convening a discussion about how culture can widely diverge across time and space while still being bound by common threads. Founded in child development research, the exhibition examines these themes through the lens of everyday life, a concept that children relate to well. By presenting a variety of different art forms, perspectives, and activities, the exhibition's components interact with and reinforce each other.
Conversations in Our Walls
As museum staff developed the exhibition, its narrative became increasingly rooted in New York City and the United States. With New York City's dynamic and representative Muslim community as a boundless resource, staff saw an opportunity to cultivate concepts, objects, and other components from authentic local voices. The exhibition's creators also felt it was important to capture American Muslim experiences, and for families to experience museum programming reflective of the city's rich cultural landscape. With Muslims from all over the world robustly represented in New York, America to Zanzibar echoes the city's multicultural roots while cultivating the "global citizen" in us all.
Though the exhibition is geared toward children, the Children's Museum of Manhattan recognized the special opportunity for America to Zanzibar to reach adult audiences. Keenly interested in "the conversations that take place within our walls," the exhibition's creators hope their work challenges conceptions and sparks discussions founded on new knowledge. Above all, the museum hopes to catalyze curiosity in visitors and open children's eyes to the possibility of different places, cultures, and ways of life.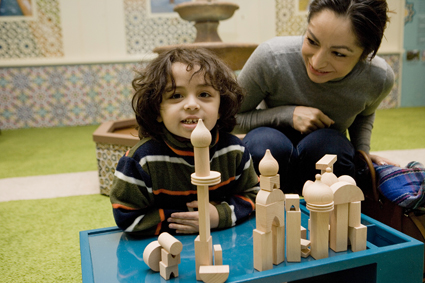 Photo Caption: Block play in the Courtyard. Photo by: aommiephotography.com
Local Partners; Emerging Creatives
America to Zanzibar creators also tapped into New York City's vast museum resources, borrowing objects from sister institutions to enhance its offerings. Partnering with fellow museums like the Metropolitan Museum of Art, for example, the Children's Museum of Manhattan was able to secure stunning 13th century Iranian tiles to showcase in the exhibition. The Children's Museum of Manhattan has also partnered with the Hispanic Society of America on components of the exhibition.
Beyond the museum world, America to Zanzibar was enhanced through relationships with emerging artists, performers, and speakers. The exhibition's authentic Moroccan rug market stall, for example, includes rugs designed and fabricated in conjunction with Alia Kate, founder and designer of the Kantara Project, which specializes in hand-woven rugs made by women's weaving cooperatives throughout Morocco. The museum also worked closely with the Kingding Sindaw Melayu Heritage Dance theater ensemble to incorporate the musical and artistic traditions of Philippine indigenous tribes into program associated with the exhibit.
Designed for the Road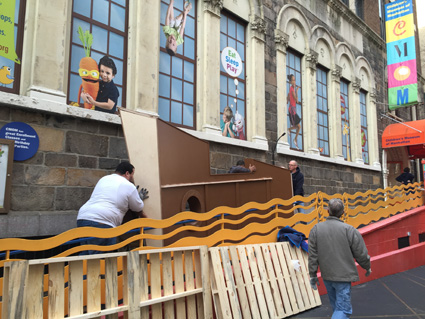 Photo Caption: Children's Museum of Manhattan staff bring in a section of the Indian Ocean dhow (boat) for the Trade Routes Section of America to Zanzibar: Muslim Cultures Near and Far.
Drawing from a myriad of artists as diverse as Muslim cultures around the globe, America to Zanzibar: Muslim Cultures Near and Far incorporates a wide range of artistic disciplines, each lending a first-person narrative and unique cultural perspective for visitors. Such perspectives await Children's Museum of Manhattan visitors now through January 2017. The exhibition has also been designed to travel. With content relevant for families of all ages, the Children's Museum of Manhattan staff hope it will journey to other children's or art museums where it may in turn sow greater appreciation and curiosity about Muslim cultural diversity and how we might all be better global citizens.