Pictured above: Props from the Kingdom of Why encourage preschoolers to explore science as they interact with fairytale characters.
"The Kingdom of Why weaves a narrative that children find interesting, while leading them in scientific exploration. Hopefully this program inspires others to employ collaborative storytelling as a means of encouraging young learners to seek out scientific discovery."
– Amy Greil, Children's Librarian, Plainville Public Library
The Realm of Discovery
If you've heard of the curious Princess Ava or her friend Oliver the Squire, odds are you've visited the wondrous Kingdom of Why, a creation of the Full STEAM Ahead project funded by a subgrant from the Massachusetts-based Plainville Public Library through the IMLS Grants to States program. Envisioned by Children's Librarian Amy Greil, the Kingdom of Why program leads children and their parents on an interactive journey of scientific discovery.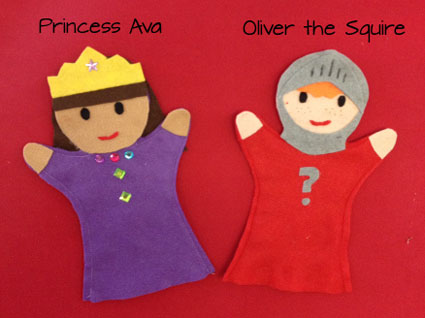 Photo Caption: Puppets for Princess Ava and Oliver the Squire, main characters from the Kingdom of Why.
Where Curiosity Reigns
Stepping into the Kingdom of Why, young knowledge-seekers befriend the inquisitive Princess Ava, her friend Oliver the Squire, and a vibrant cast of pixies, elves, and trolls. Over the course of an eight-week program, children ages three through five explore the Kingdom of Why, absorbing science along the way.
Each forty-five minute Saturday session revolves around an original fairytale that comes to life with puppets, storyboards, and other props. Children and their guardians, whose supervision and participation are required for the program, take part in the telling of each tale by building castles, making props, and acting out dialogue. Together, the group arrives at each story's conflict, a scientific question that they must help solve for Princess Ava. Once the question is posed, participants visit different stations where they explore related scientific concepts. After sufficient time for play, the group reconvenes and children present what they've learned in order to resolve the story's conflict.
The Kingdom of Why interactively explores concepts including light and color, symmetry, patterns and sorting, wind, ramps, levels, balance, and building. During the first story, for example, Princess Ava and Oliver the Squire happen upon a group of pixies during a walk in the woods. The pixies are in crisis because they've been invited to the rainbow ball, but cannot remember the colors of the rainbow. They must mix dyes to create its colors. Faced with this predicament, Kingdom of Why participants visit stations where they mix paints, play with prisms, and explore color palettes. Ultimately, the children present what they've learned to aid in the pixie's quest.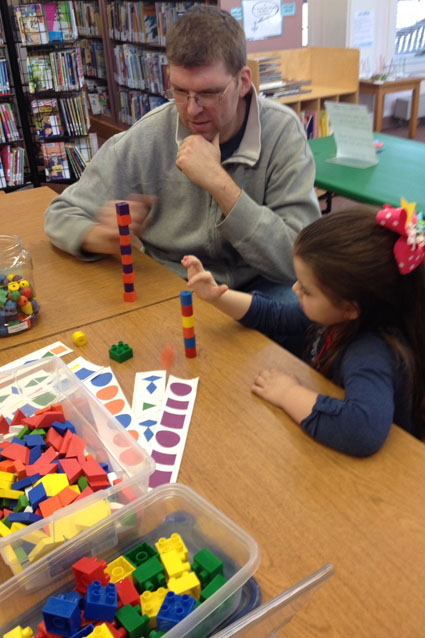 Photo Caption: A young learner and her guardian learn about patterns and build towers at a Kingdom of Why science station.
Fine Tuning
As the Kingdom of Why program took shape over three different sessions, so did opportunities for improvement. The children's enthusiastic response to the Kingdom of Why's theme song, sung at the start of every session, inspired Greil to write additional songs to accompany the stories, as well as a farewell song for each lesson.
Greil also observed how learning styles vary for three, four, and five-year olds, and how each age approaches topics and materials differently. She adjusted the set up for different stations accordingly, allowing different levels of activity for each age, so that all participants could be successful.

Photo Caption: Kingdom of Why participants explore concepts using a light board and color paddles.
The Lessons Live On
The Kingdom of Why is a tremendous hit—all three sessions at the Plainville Public Library have been completely full – and its resonance among participants is equally apparent. According to a post-program survey completed one month after the last session, 78 percent of parents and caregivers were repeating activities from the program, including singing songs and acting out stories from the Kingdom of Why. An impressive 100 percent of participants recalled concepts from the program.
The Kingdom of Why's impact on parents is also clear, as some were skeptical that their little ones would sit still and participate, but were pleasantly surprised by their interest and attention. The survey also showed that post program, parents increased the amount of time spent reading science and math-themed books, seeking out science content online, and adding science and math elements to other games. These results overwhelmingly suggest possibilities for teaching science to preschoolers in an organic way, and for incorporating STEAM content into activities that children already find engaging.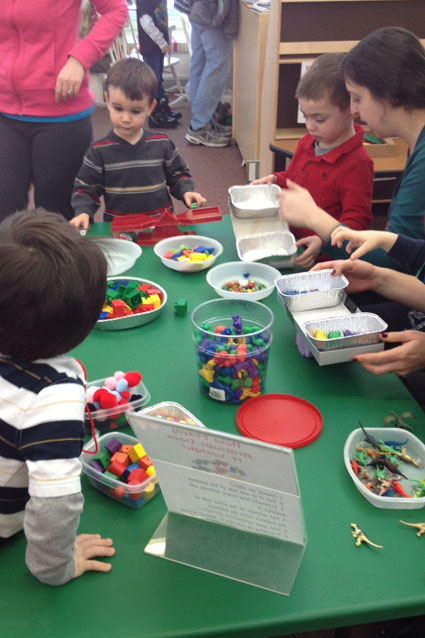 Photo Caption: A group of Kingdom of Why participants explore weight with dinosaurs and other toys.
At the Library and Beyond
The Kingdom of Why also resonated with other community audiences including at the local Discovery Daycare, where Greil has run the program twice with great success. "The children were always very excited and the program turned out even better than we could have expected," said Paulette Edmonds, Director, Discovery Daycare. "The Kingdom of Why involved the children in so many different ways, and it was amazing to watch them touch, see, and connect with science."
This success supports the program's potential for replication in other educational settings. While Greil works to update and expand the Kingdom of Why website to include suggested activities, materials, and other resources, she also maintains an active Pinterest page for those interested in learning more about the program's content. Optimistic about the prospect of others putting their own spin on her concept, Greil believes the program could be easily tailored for cowboys, pirates, or a variety of themes, while incorporating scientific activities. With the Kingdom of Why's proven approach to STEAM learning, schools and libraries need only follow the magic.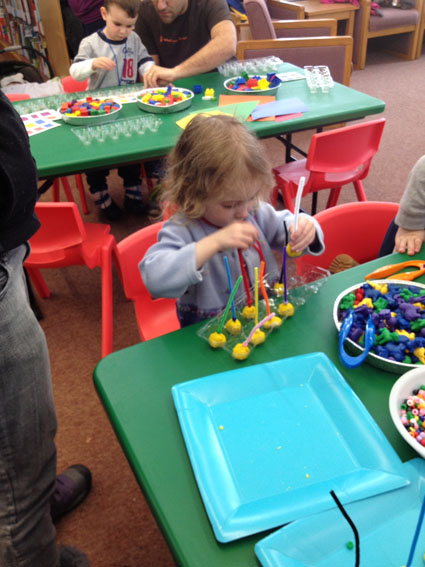 Photo Caption: Kingdom of Why participants use arts and crafts to discover science.
Program
Grants to State Library Administrative Agencies