January 25, 2022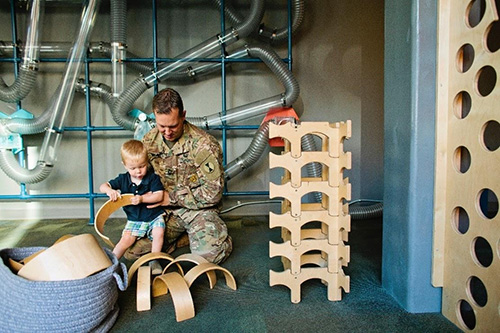 "Working directly with military families has been incredibly humbling and informative. It has also been wonderful to collaborate with experts in areas of military families' unique needs." — Kimberly McKenney, Planning and Evaluation Director at Greentrike
Opening a museum after years of planning and development is exciting on its own, but when it's also the destination of Dr. Jill Biden's first official trip as First Lady, it's even more reason to celebrate. Weeks before opening to the public, the Children's Museum on Joint Base Lewis-McChord (JBLM) in Washington State was thrilled to give her a sneak peek.
When Dr. Biden was Second Lady, she launched the Joining Forces initiative together with First Lady Michelle Obama to highlight public and private partnerships focused on employment, education, and wellness programs for military families. As First Lady, Dr. Biden's visit to the Children's Museum was part of an effort to support and re-energize those plans.
For more than eight years, Executive Director Tanya Durand, her team at Greentrike (formerly the Children's Museum of Tacoma), and the leadership at JBLM were working toward opening the satellite museum. Their vision became a reality when its doors opened on April 24, 2021, thanks to a grant from the Institute of Museum and Library Services (IMLS).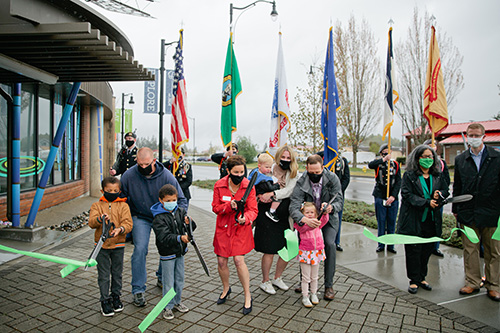 Introducing the First of its Kind
The Play is on Base project fills a gap in services by bringing a children's museum to a military installation for the first time anywhere in the world. The museum's engagement strategies have strengthened the well-being and resilience of military families by focusing on building parental resilience, social connections, knowledge of parenting and child development, and social and emotional competence of children. Its exhibits and programs are tailored to meet the unique needs of military families, especially those whose children have special needs.
"The highlight of the project was the grand opening," said Durand. "We were overjoyed as hundreds of military families, community partners, and friends of Greentrike gathered to celebrate this momentous occasion with us that had been many years in the making."
In addition to strengthening Greentrike's position as a community anchor, the satellite museum also creates a potentially replicable model for military installations and children's museums worldwide.
"We are always looking to share experiences and learnings with other organizations who may be interested in doing a similar thing," said Durand.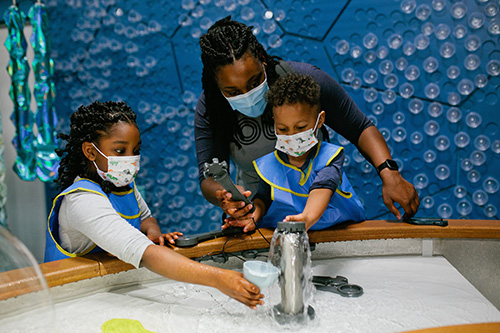 Finding Opportunities in Setbacks
Although the museum has been open for nearly a year, getting to that opening wasn't always easy. Navigating the challenges of the COVID-19 pandemic was difficult for Durand and the rest of the Play is on Base project team.
They experienced many delays in opening, but those delays also brought new opportunities to ensure they were meeting their own standards. Ultimately, the challenges allowed them to grow in organizational resiliency, flexibility, partnership, and creativity.
"We are thrilled that our talented teams worked so hard within the restrictions of the COVID-19 pandemic to turn a vacant JBLM roller skating rink into an incredible new hub of learning, play, and wonder," said Durand. "We are also grateful to our many partners like IMLS, who were instrumental in making this invaluable new resource for military families come to fruition."
Thinking of the Bigger Picture
While the 2017 IMLS grant helped to create the Children's Museum at JBLM, a current IMLS National Leadership Grants for Museums award—Evaluating Military Family Programming—is enabling the museum to carefully measure its success and to share learnings to benefit other community organizations.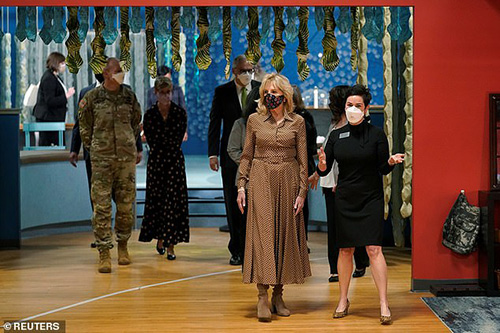 The project staff has coordinated with military researchers, internal staff, an external evaluator, and other partners to create and disseminate an evaluation tool and supportive resources to help community-based organizations measure their programmatic effectiveness in strengthening resilience in military families.
"This will expand our project's reach to community organizations and military families across the country and—we hope—the globe," said Kimberly McKenney, planning and evaluation director at Greentrike. "It has been so gratifying to synthesize goals developed over the past 10 years with community members and partners into a tool that could have such broad benefit."
The project team is currently completing the development of an online toolkit to be shared broadly in summer 2022. Readers interested in previewing and providing feedback on the toolkit before it's released to the public can contact McKenney at kmckenney@greentrike.org.
About the Project
Grant Project Name: Play is on Base
Grant Log Number: MA-20-17-0296-17
Year Awarded: 2017
Recipient: Children's Museum of Tacoma
Project Contact:
Rod Nash
Grants Manager at Greentrike
rnash@greentrike.org
Website:https://greentrike.org/