You are here
Pennsylvania
Contact Title:
Deputy Secretary and Commissioner for Libraries
State Library Address:
Pennsylvania Office of Commonwealth Libraries
Harrisburg,
PA
17120-0600
The Grants to States Program
The Grants to States Program is the largest grant program run by IMLS; it provides funds to State Library Administrative Agencies (SLAAs) using a population-based formula set by the law. SLAAs determine goals and objectives for the funds in their statutorily required five-year plan (see below). For more information, see the Grants to States program overview.
"We'll offer staff training in technical skills, but also in skills that will boost their community leadership ability.  We'll improve connectivity. Our number one goal is to ensure that all of our 400+ libraries offer what the public expects now and in the future."
--Pennsylvania Office of Commonwealth Libraries
The Grants to States Program
The Grants to States Program is the largest grant program run by IMLS; it provides funds to State Library Administrative Agencies (SLAAs) using a population-based formula set by the law. SLAAs determine goals and objectives for the funds in their statutorily required five-year plan. For more information, see the Grants to States program overview.
Project Examples
Major Innovation - Preschool Kits
The Mengle Memorial Library provided resources to educate parents, caregivers and other adults in the community about fun, easy activities they could do with children under the age of five to prepare them for learning how to read. The library purchased 1,150 board books and 20 big books and incorporated ideas from Every Child Ready to Read in its programs. These included monthly Lapsit and Play as Learning programs, eight Family Development Time programs and 28 storytimes, which were held for the general public, local daycare centers, and the Title 1 Reading Class at the local elementary school. Bags and boxes were prepared for different age groups with age-appropriate books and activities. Surveys completed by adult participants of Family Development Time showed high satisfaction with the program. The project not only brought the families together, but taught the parents the importance of play in their child's education.
IMLS Funds: $16,500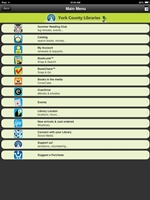 YCL Mobile
The York County Library System created a multi-platform application called YCL Mobile to increase use of the library, expand access to library services, and turn smartphone users into library users. They engaged a large number of library customers and stakeholders in the beta testing phase of development. Grant funds were used to purchase application development services, data access, and API services. Staff worked to educate and train other staff members on the app and its use so they were able to promote it and assist customers as needed. Feedback included the convenience of being able to search for materials, place them on hold, and/or check out items and download them immediately through a smartphone.
IMLS Funds: $50,000
Other project(s) featured through IMLS media include:
Search the Awarded Grants Database for additional details about awards in this state.
View the IMLS funding by state report - Pennsylvania (PDF 1.04 MB) with additional information about all IMLS funding for this state (FY 2011 – FY 2016).
Five-Year Plan Highlights
Lifelong Learning
General Services and Initiatives
Improve collections at public and school libraries for people of all ages. Ask public libraries to combine collection development work with programming, outreach and marketing to get the most value for the dollars spent. School librarians will collaborate with teachers in the selection and use of the materials acquired.
Literacy
Continue to provide the tools and a fundamental programming structure for each public library in the state to use for all age and socioeconomic groups during their summer reading programs to ensure that the concept of lifelong learning is an integral part of community culture.
The Bureau of Library Development's School Library Advisor will continue to provide specific programs and services that support school librarians in their work with other educators to improve student achievement and promote a lifelong love of reading and learning.
Continue support for One Book, Every Young Child, an award-winning program for families that encourages the intergenerational reading of a selected children's book across the Commonwealth. Through it parents learn techniques that help build the early literacy skills of their young children. At least 11 agencies collaborate with the state library on this project.
Information Access
Access to E-Resources
Continue development of an affordable statewide integrated system for public and school libraries.
Explore the feasibility of developing an e-book platform for statewide access.
Continue support and promotion for the well-used POWER Library, our statewide program that provides access to thousands of full text periodical articles, newspapers, a major encyclopedia and photographs, pictures, charts, maps, and reference materials for people of all ages.
Continue support for PennREN, the Pennsylvania Research and Education Network. PennREN is the initial project of the Keystone Initiative for Network based Education and Research (KINBAR) that delivers a statewide platform that connects its members through facilities-based fiber-optic networking.
Interlibrary Loans
Analyze and revise, as needed, the Interlibrary Loan Services for the state.
Digitization/Preservation
Ensure access to the unique collections in the state library while minimizing the natural aging process of these materials by maintaining and advancing the design of the specialized preservation-based environmental systems that house portions of the state library's rare collections.
Increase access to digitized collections through full text searching and online image viewing of items that have been converted to the digital format, and continue building the digitized collection, with special attention given to areas of interest to the citizens of Pennsylvania. Any materials deemed appropriate for K-12 education will be added to the Department of Education's Standards Aligned System Portal to encourage use by students and teachers.
Reference Services
Continue to support the Ask Here PA reference service program.
Institutional Capacity
Continuing Education
Provide state and national professional education opportunities for Pennsylvania's academic, school, special, and public librarians through scholarships, free online webinars, self-paced continuing education courses, and the sharing of ideas.
Civic Engagement
Programs
PA Forward, a Pennsylvania initiative to position libraries to become community centers of information, technology, and learning, promises to fuel educational and economic opportunities for all citizens. Essentials for success include basic literacy, information literacy, civic and social literacy, health literacy, and financial literacy. Programs proposed include resource building, public and private partnership development, technological access to information, and the provision of unique programming focused on the five literacies.
Using the framework of the current Preschool Connections program, the Bureau of Library Development will target specific age groups to increase the capacity of small and rural public libraries to become the community destination for youth of all ages and the adults who live and work with them.
Support Senior Spaces at our libraries to serve baby boomers, older adults, and the elderly. As baby boomers retire, they are looking to their public libraries to provide recreation, lifelong learning, civic engagement, ideas for second careers, and meaningful volunteer opportunities. Based on demographic trends, there is a strong need to develop a model program that can be replicated throughout the state.
Access to Government Information
Serve the information and research needs of all branches of State Government and other libraries within the Commonwealth with a collection emphasis on materials for, by, and about Pennsylvania. As a statewide resource center, the state library provides rapid access to specialized database resources for Pennsylvanians to use for research.
Civic Collaboration
Support workshops and assessments related to disaster preparedness and recovery by working with federal, state, and local emergency management agencies to establish plans and generate training sessions for library staff through the state.
Human Services
Special Services for Special Needs
Meet the library information needs of the blind and physically disabled.
Health and Social Services Information
Support the Family Place library program, led by trained staff, that expands the traditional role of public libraries into serving as community centers for early childhood information, parent education, socialization, emergent literacy, and family support.
IMLS Data Collection
State Library Administrative Agency Survey
The State Library Administrative Agency Survey (SLAA) provides descriptive data about state library agencies for all fifty states and the District of Columbia.
Public Libraries Survey
The Public Libraries Survey (PLS) provides national descriptive data on the status of public libraries in the United States and its territories. Data are collected from more than 9,000 public library systems with over 17,000 public library outlets. Explore state-level profiles to find and compare totals on key data such as numbers of libraries and librarians, revenue and expenditures, and collection sizes.
Content last reviewed on
December 11, 2017