IMLS Invests $6.3 Million in Museum National Leadership Projects
Federal Grants Advance Museum Profession and Practice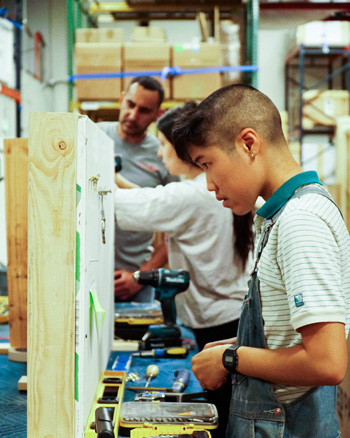 Washington, DC—The Institute of Museum and Library Services announced the selection of 15 projects from a pool of 74 applicants for the highly competitive National Leadership Grants for Museums program.
National Leadership Grants for Museums support projects that address critical needs of the museum field and that have the potential to advance practice in the profession so that museums can improve services for the American public. The projects will receive funds totaling $6,387,709, and the organizations receiving the awards are matching them with $4,577,282 in non-federal funds.
"Our current round of grants for the museum world reflects the important work of our nation's cultural institutions during the pandemic and the deep thinking about the future of our culture in a post-pandemic world," said IMLS Director Crosby Kemper. "Advancing the preservation of collections, supporting diversity through staff training and programming, community response, and formal and informal education for future generations is inspiring."
The IMLS website lists all projects funded through this year's National Leadership Grants for Museums, including:
The Institute for Learning Innovation in Oregon will strengthen business and leadership skills for directors of education working in art museums. Project activities involve the development of a series of three professional development bootcamps focused on change leadership, strategic and innovative planning, and enterprise level financial acumen. The project will increase understanding of the impact of high-quality professional development on the practice of museum leadership while positioning museum educators to better support and lead.
The Children's Discovery Museum of San Jose and its partners will develop and disseminate a suite of resources that support institution-wide efforts by museums to incorporate diversity, equity, access, and inclusion practices into their operations in effective, manageable, and actionable ways. By developing new DEAI resources that support culturally competent museum operations, the project will empower museums to shift their internal practices to be more inclusive and equitable.
The University of Wisconsin-Madison, in collaboration with a consortium of 24 zoos, zoological associations, academic institutions, and industry groups, will lead a global orangutan genomic study to fully understand threats to their sustainability, such as interbreeding between orangutan species and inbreeding due to the previous lack of DNA data. The project activities will generate publicly available research data about the global orangutan population and a plan for their long-term global management, helping ensure the continued sustainability of orangutans.
"These projects highlight the power of collaboration and dedication to continuous improvement in the museum field," said Laura Huerta Migus, Deputy Director, Office of Museum Services. "These efforts are important investments for ensuring museums are not only at the cutting edge of knowledge generation and preservation, but also building leadership capacity to respond to social issues and ensure sustainable operations."
The FY 2022 National Leadership Grants for Museums Notice of Funding Opportunity will be posted later this month. The anticipated application deadline is November 15, 2021. For more information, please visit the IMLS website.
About the Institute of Museum and Library Services
The Institute of Museum and Library Services is the primary source of federal support for the nation's libraries and museums. We advance, support, and empower America's museums, libraries, and related organizations through grantmaking, research, and policy development. Our vision is a nation where museums and libraries work together to transform the lives of individuals and communities. To learn more, visit www.imls.gov and follow us on Facebook and Twitter.
Programs
National Leadership Grants for Museums