IMLS Signs Historic America250 Agreement Commemorating Nation's 250th Anniversary
22 Federal Agencies Join Together in Multiyear Partnership to Plan U.S. Semiquincentennial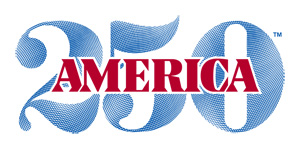 Washington, DC—America250, the nationwide commemoration of America's 250th anniversary in 2026 led by the U.S. Semiquincentennial Commission, announced an agreement with IMLS and more than 20 agencies yesterday.
The Memorandum of Understanding for Cooperation in Support of the 250th Anniversary of the USA, which will support the multiyear effort to mark 250 years of American independence, was announced at an official ceremony held at the Library of Congress, with Dr. Carla Hayden, Librarian of Congress, presenting the opening remarks and Frank Giordano, executive director for the Commission, providing the welcome to assembled federal partners.
The Congressional legislation that created the Commission outlines, among other things, that "Federal agencies shall cooperate with the Commission in planning, encouraging, developing, and coordinating appropriate commemorative activities." As such, the federal partners for America250 will work collaboratively to plan and create signature programs and activities that tap into the wealth of knowledge, historic assets, and tangible touchpoints comprising some of the country's leading cultural institutions and organizations.
IMLS has already made several awards in support of the America250 movement and its themes. For example:
The American Philosophical Society in Pennsylvania is using an IMLS National Leadership Grant to develop a new "digital portal that will uncover hidden stories from Philadelphia's revolutionary past."

The Massachusetts Library System used IMLS grant funds to develop the "10 Questions for Young Changemakers," a resource for civic education in the digital age which aims to help young people achieve successful, equitable, and effective participation in a new media environment.
"Celebrating the shared history, shared ideals, and shared experiences of Americans with museums and libraries in local communities throughout the U.S. with America250 is a significant part of our IMLS mission as we march toward 2026," said IMLS Director Crosby Kemper, who serves ex officio on the U.S. Semiquincentennial Commission.
America250 federal partners include:
Department of Interior*
Department of Justice*
Department of State*
Institute of Museum and Library Services*
Library of Congress*
National Endowment for the Arts*
National Endowment for the Humanities*
National Archives and Records Administration*
Smithsonian Institution*
Supreme Court of the United States*
African Development Foundation
American Battle Monuments Commission
American Council on Historic Preservation
AmeriCorps
Defense Nuclear Safety Facilities Board
Federal Mediation and Conciliation Service
Inter-American Foundation
Railroad Retirement Board
U.S. Consumer Product Safety Commission
U.S. Nuclear Regulatory Commission
U.S. Office of Government Ethics
U.S. Trade and Development Agency
*Ex Officio members of the U.S. Semiquincentennial Commission
Daniel DiLella, Chairman, U.S. Semiquincentennial Commission said, "Each of our federal partners offers unique and important perspectives on the shared histories and individual stories that have helped shape our nation. We look forward to working collaboratively with them to create and support initiatives that capture the imaginations of our fellow Americans and inspire them to get involved."
Specific plans to support America250 will be announced by IMLS and other agencies in the coming months and years.
About America250
America250 is a multiyear effort to commemorate the semiquincentennial, or 250th anniversary, of the United States. The purpose of the U.S. Semiquincentennial Commission, created by Congress, and the corresponding America250 Foundation, is to catalyze a more perfect union by designing and leading the most comprehensive and inclusive celebration in our country's history. America250 represents a coalition of public and private partners all working to create initiatives and programs that honor our first 250 years and inspire Americans to imagine our next 250. The commemoration period began in 2020, culminates on July 4, 2026, and officially concludes in 2027. For more information, visit www.america250.org and follow America250 on Facebook, Twitter , Instagram and TikTok.
America250 Media Contact:
Keri Potts, VP Communications and Public Relations, America250, kpotts@america250.org
About the Institute of Museum and Library Services
The Institute of Museum and Library Services is the primary source of federal support for the nation's libraries and museums. We advance, support, and empower America's museums, libraries, and related organizations through grantmaking, research, and policy development. Our vision is a nation where museums and libraries work together to transform the lives of individuals and communities. To learn more, visit www.imls.gov and follow us on Facebook and Twitter.