IMLS, Six Regional Museum Associations Join Together to Build Digital Capacity of Small Museums Across America
Federal Funding to Help Small, Rural, and Remote Organizations Adjust to a COVID-19 Reality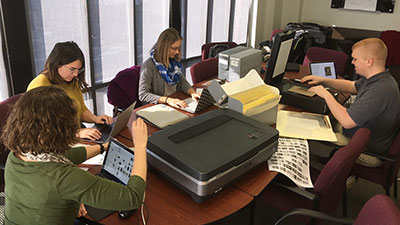 Washington, DC—The Institute of Museum and Library Services today announced funding for a pilot program aimed at helping museums access hands-on digital media and technology training and best practices, bolstering the capacity of small, rural, and remote museums across the nation.
Funded by a FY 2020 IMLS National Leadership Grant for Museums, the project will be led and managed by the Association of Midwest Museums (AMM). The other five U.S. regional associations will work as collaborative partners: Mid-Atlantic Association of Museums (MAAM), Mountain-Plains Museums Association (MPMA), New England Museum Association (NEMA), Southeastern Museums Conference (SEMC), and Western Museums Association (WMA).
This is the first time that all six regional museum associations will embark on a single nationwide effort, providing a foundation and framework for future collaborative programs and initiatives.
In the wake of the COVID-19 pandemic, museums across the nation have pivoted, and increasing their online programs and services in place of in-person experiences. However, with limited staff and resources, small museums face additional barriers to adapt to a new digital reality.
Widespread challenges range from a lack of existing internal capacity to engage new and existing audiences through digital media to limited access to professional development to develop staff skill sets. Those museums in remote and rural areas are in most critical need of assistance to reach audiences online.
"There exists a clear divide in terms of digital capacity and training between small museums and their larger peers, a divide that has been exacerbated by the pandemic. IMLS is pleased to bring together this national collaboration that will offer targeted professional development to the some of the most vulnerable small museums, so that they can solidify and strengthen their own digital capacity and continue to offer needed services to their communities," said Paula Gangopadhyay, Deputy Director of the Office of Museum Services. "Our hope through this regional strategy is to also proactively reach museums of all disciplines in many of the remote areas and states that are often resource-strapped to meet their mission and goals."
A Museum Advisory Committee will inform the program development and provide presentation of best practices. The group's leaders represent small museums and other national, state, and local professional organizations spanning all six U.S. regions, including the Chicago Cultural Alliance, Utah Museums Association, Small Museums Association, Association of African American Museums, Indiana Deaf History Museum, and the Museum Studies Graduate Program at University of San Francisco. A technology consultant will also offer expert guidance on the project, along with technology instructors and student fellows.
"AMM and our regional association partners appreciate the vision and leadership of IMLS in bringing our organizations together for this very timely and important collaborative project," said Charity Counts, Executive Director of the Association of Midwest Museums. "We believe the training programs and resources created through the Digital Empowerment Project will help small museums successfully visualize, plan, and implement digital initiatives and allow them to better engage their audiences in a post-pandemic world."
The training needs of small museums span from collections digitization and website and education resource development to discoverability and virtual engagement strategies. The project will present hands-on, step-by-step training sessions by museum technologists, accompanied by introductory sessions featuring strategies used by peer museum practitioners. All session recordings and supplementary resource toolkits will be organized in a Resource Hub website featuring an online community forum supported by student technology fellows. This 18-month project plans to train 5000 museum staff and volunteers of small museums.
"Small museums are ideally poised to leverage the current generation of digital technologies, and with the timely support of this project, the fates of these museums and the millions who depend on them can be transformed into one of growth instead of extinction in these challenging times," said Nancy Proctor, the project's technology consultant and Director of The Peale Center for Baltimore History and Architecture.
For more information about IMLS grants, please visit imls.gov or subscribe to email updates.
About the Institute of Museum and Library Services
The Institute of Museum and Library Services is the primary source of federal support for the nation's libraries and museums. We advance, support, and empower America's museums, libraries, and related organizations through grantmaking, research, and policy development. Our vision is a nation where museums and libraries work together to transform the lives of individuals and communities. To learn more, visit www.imls.gov and follow us on Facebook and Twitter.
Photo courtesy of the NC Digital Heritage Center
Programs
National Leadership Grants for Museums