FOR IMMEDIATE RELEASE
IMLS Contact:
Giuliana Bullard
gbullard@imls.gov
202-653-4799
ACM Contact:
Brendan Cartwright
Brendan.Cartwright@ChildrensMuseums.org
703.224.3100 x110
Museum Access Program Spreading Across the U.S.
Participating museums improve outreach to low-income families; benefit from greater community connections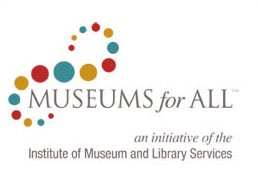 Washington, D.C. -- Museums for All, a nationally-branded program helping museums across the country reach out to low-income families, marks the completion of its pilot phase with 67 participating museums in 26 states across the country and Washington, D.C.
A signature initiative of the Institute of Museum and Library Services (IMLS) and the Association of Children's Museums (ACM), Museums for All reduces admission fees at participating museums to no more than $3 per person for families who present an Electronic Benefit Transfer (EBT) card. The program debuted in 2014 and is currently completing a pilot phase targeted to children's museums, but is open to all.  Early adopters include children's museums, science and technology centers, planetariums and arboretums. A full list of participating museums can be found at http://childrensmuseums.org/participating-museums.  The program also offers a variety of resources for participating museums, from promotional materials to training resources for front-line staff, at the program website at www.museums4all.org.
Two museums new to the program – The Morton Arboretum and Chicago Children's Museum—are already seeing benefits from participation.
"The Museums for All program was a good fit for us in our ongoing effort to enable more Chicago-area families to experience the Arboretum," said Anna Cosner, the director of retail and events at Morton Arboretum.  
"Chicago Children's Museum believes every child deserves rich and diverse museum experiences, and sees Museums for All as an ideal way to build a lifelong appreciation for cultural institutions," said Jennifer Farrington, president and CEO of Chicago Children's Museum.
Other museums' experiences with this initiative will be explored in a new IMLS UpNext Blog series:  https://www.imls.gov/news-events/upnext-blog.  
"The museum field strives to be inclusive and accessible. With Museums for All, institutions have a roadmap for providing more equitable access," said Dr. Kathryn K. Matthew, director of the Institute of Museum and Library Services. "I commend the museums already participating in Museums for All and I encourage museums of all disciplines to consider joining." 
Association of Children's Museums Executive Director Laura Huerta Migus said, "Museums for All is a reflection of one of the core values of our field: that all children deserve access to high-quality museum experiences. This national initiative, which is open to and easily repeatable by every museum in the country, transforms this ideal into action."
For more information about how your museum can participate, see the Museums for All website or contact Brendan Cartwright at 703-224-3100 x110 or info@museums4all.org.
The Institute of Museum and Library Services is the primary source of federal support for the nation's 123,000 libraries and 35,000 museums. Our mission is to inspire libraries and museums to advance innovation, lifelong learning, and cultural and civic engagement. Our grant making, policy development, and research help libraries and museums deliver valuable services that make it possible for communities and individuals to thrive. To learn more, visit www.imls.gov and follow us on Facebook and Twitter.