FOR IMMEDIATE RELEASE
National STEM Video Game Challenge Announces Winners of Fifth Annual Competition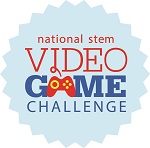 Washington, DC – The Institute of Museum and Library Services (IMLS), in collaboration with the Joan Ganz Cooney Center and E-Line Media announced today the winners of the 2016 National STEM Video Game Challenge. The 24 middle school and high school students were recognized at an awards ceremony at National Geographic in Washington, DC. The top original video games and game design concepts were selected in18 categories from nearly 3,000 entries. The STEM Challenge aims to motivate interest in science, technology, engineering, and math (STEM) among youth by transforming their natural passions for playing video games into designing and creating their own video games.
The Institute of Museum and Library Services has been a proud sponsor of the STEM Challenge since 2013 as part of its commitment to advance innovation, learning and civic engagement. This year IMLS sponsored more than 20 workshops at libraries and museums nationwide for students and mentors, including a series at the Glazer Children's Museum in Tampa, Florida, where 16-year-old Kimberly Do was inspired to create the high school winning game design document.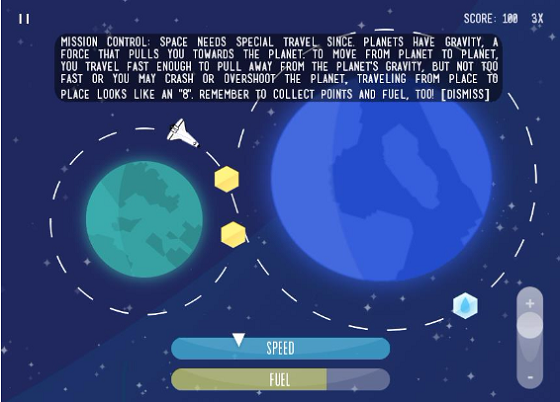 Her game, "Escape Velocity," invites players to learn the physics behind orbital trajectories and explore space as they attempt to rescue a lost shuttle crew. "I enjoy making art and coding," Kimberly said. "So it was natural to make video games because it felt like an intersection between the two contrasting fields." She plans to study computer science in college, and is interested in pursuing a career in UX/UI design.
"The STEM Challenge gets at the core of some of our key goals: inspiring creativity, sparking innovation and cultivating a love of STEM among our young people," said IMLS Director Dr. Kathryn K. Matthew. "IMLS congratulates each of the winners, and I hope that this challenge is the beginning of a long passion for STEM among the thousands of entrants who participated."
Each winner receives a cash prize of $1,000, as well as a subscription to Gamestar Mechanic from E-Line Media and Curiosity Boxes from Vsauce. STEM Challenge winners also can designate $2,000 to a school or non-profit organization as an institutional award recipient. For more information on each of the winners and their video game designs, please see: stemchallenge.org/press.
"The National STEM Video Game Challenge promotes vital new skills like coding and systems thinking that all young people will need to compete and collaborate in a digital and global world," said Michael H. Levine, Executive Director, the Joan Ganz Cooney Center. "We are thrilled to honor these students and their outstanding games."
The National STEM Video Game Challenge was inspired by President Obama's "Educate to Innovate Campaign." Previous winners have showcased their games at the White House Science Fair, the Smithsonian Institution and Games4Change Festival.
The Institute of Museum and Library Services is celebrating its 20th Anniversary. IMLS is the primary source of federal support for the nation's 123,000 libraries and 35,000 museums. Our mission has been to inspire libraries and museums to advance innovation, lifelong learning, and cultural and civic engagement. For the past 20 years, our grant making, policy development, and research has helped libraries and museums deliver valuable services that make it possible for communities and individuals to thrive. To learn more, visit www.imls.gov and follow us on Facebook, Twitter and Instagram.
The Joan Ganz Cooney Center investigates the potential of digital media to help children learn, and collaborates with educators, media producers, policymakers and investors to put this research into action. An independent nonprofit organization, the Center addresses issues of digital equity and aims to strengthen connections between formal and informal learning environments. Learn more at www.joanganzcooneycenter.org.
E-Line Media is a publisher of game-based learning products and services that engage, educate and empower, helping to prepare youth for lives and careers in the 21st century. E-Line works with leading foundations, academics, non-profits and government agencies to harness the power of games for learning, health and social impact. Find out more at www.elinemedia.com.
###
Press Contacts:
Giuliana Bullard, IMLS
202-653-4799, gbullard@imls.gov
Mark German, E-Line Media
213-453-3935, markgerman@elinemedia.com
Catherine Jhee, Joan Ganz Cooney Center
212-875-6685, catherine.jhee@sesame.org