IMLS Press Contact
202-653-4799
Giuliana Bullard gbullard@imls.gov
Washington, DC—The Institute of Museum and Library Services (IMLS) announces the launch of data.imls.gov, its open data catalog site. This new resource puts IMLS data—comprising agency data such as grants administration and data about museums, libraries, and related organizations—at the fingertips of researchers, developers, and interested members of the public who want to dig deeper.
IMLS has built a strong foundation of openness policies and practices that guide our activities and are part of President Obama's government-wide initiative to promote openness in the work of federal agencies. Under the IMLS Open Government Plan, IMLS made more datasets publically available in more open and usable formats, created new opportunities for expanded public participation through stakeholder meetings, created webpages describing our developing digital strategy, and updated our FOIA regulations to reflect a presumption of disclosure and openness.
"Transparency, participation, and collaboration form the cornerstone of an open government. We consider these principles critical to the mission of IMLS," said IMLS Acting Director Maura Marx. "We are delighted to offer the public new ways to use library, museum, and IMLS administrative data and look forward to participating in the upcoming International Open Data Day and other hackathons. We hope to lead by example through these steps as we explore ways to expand our digital strategy and embrace the idea of a more open government."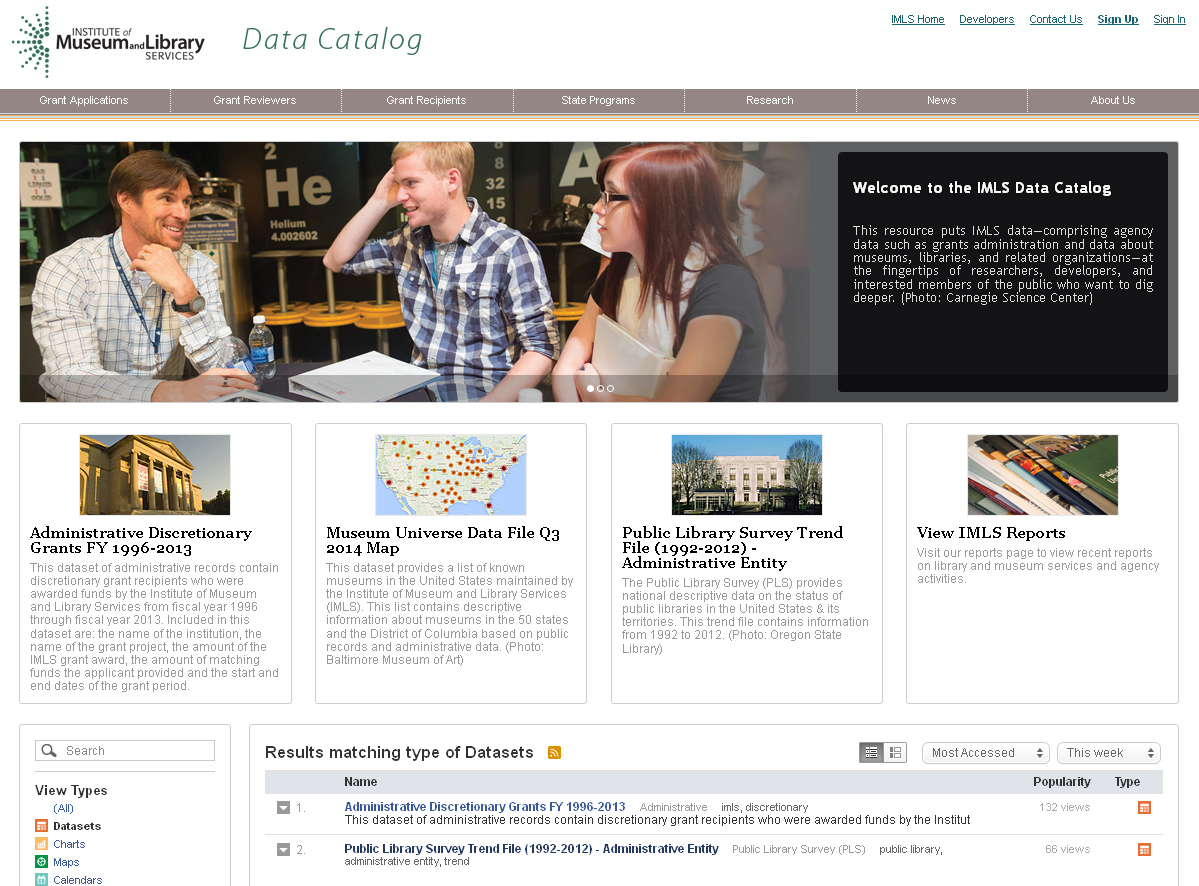 The data catalog site, which was built using the Socrata platform, can be used to:
search, filter, and export datasets,
create and share visualizations such as maps, charts, and graphs without the need for additional software,
develop IMLS reports and visualizations for program planning and evaluation,
present data analysis in interactive web-based reports, and
uel apps and other data mash-ups generated through APIs.
IMLS is hosting a small group engagement opportunity, an Open Data Open House, to talk about how the new tool can be used. Several researchers and digital library, museum and government professionals have been invited to demonstrate its features, explore IMLS data sets, and brainstorm ideas for projects using the data. Follow and engage in the discussion on Twitterusing #IMLSdata.
Upcoming IMLS UpNext blogs will feature some of their impressions of the resource and potential new uses. Subscribe to the IMLS blog, follow us on Facebook and Twitter, and stay abreast of developments with #IMLSdata.
About the Institute of Museum and Library Services
The Institute of Museum and Library Services is the primary source of federal support for the nation's 123,000 libraries and 35,000 museums. Our mission is to inspire libraries and museums to advance innovation, lifelong learning, and cultural and civic engagement. Our grant making, policy development, and research help libraries and museums deliver valuable services that make it possible for communities and individuals to thrive. To learn more, visit www.imls.gov and follow us on Facebook and Twitter.