You are here
Virginia
State Library Address:
Library of Virginia
Richmond,
VA
23219-8000
The Grants to States Program
The Grants to States Program is the largest grant program run by IMLS; it provides funds to State Library Administrative Agencies (SLAAs) using a population-based formula set by the law. SLAAs determine goals and objectives for the funds in their statutorily required five-year plan (see below). For more information, see the Grants to States program overview.

"Libraries' basic public service goals aren't new, but societal changes and technological advances have altered what the public wants from us and the ways in which we deliver services. Flexibility on our part is essential.  Right now, we are focusing on pilot projects that can be created and implemented quickly, then evaluated and refined.  The model is of rapid prototyping with evaluation and continuous improvement to better align our work with the public's needs."
--Library of Virginia
The Grants to States Program
The Grants to States Program is the largest grant program run by IMLS; it provides funds to State Library Administrative Agencies (SLAAs) using a population-based formula set by the law. SLAAs determine goals and objectives for the funds in their statutorily required five-year plan. For more information, see the Grants to States program overview.
Project Examples
Governor's Electronic Records Project
This Commonwealth of Virginia project supports public access to born electronic archival records from the gubernatorial administrations of Mark R. Warner (2002-2006), Tim Kaine (2006-2010), and Robert McDonald (2010-2014), required by law in the Commonwealth. Using grant funds, project leads developed and refined workflows and purchased equipment to facilitate the technical processing of over 100,000 email messages. During the project period, the Library of Virginia also developed a new set of tools and hired an additional staff member to handle the approximately 1.3 million email messages transferred by the administration of outgoing Governor Tim Kaine. In order to ensure that privacy-protected records were excluded from the new collection, state records archivists reviewed every email before passing it along for processing and bulk ingest. Project leads customized display options to approximate the email inbox environment for public viewers and created tip sheets to help them navigate the collection.
IMLS Funds: $82,980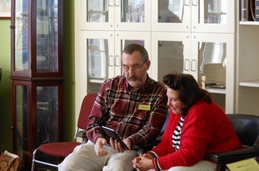 Technology Petting Zoos
The Library of Virginia's technology petting zoo project offered library staff the opportunity to gain hands-on experience with various e-reader devices, to prepare library staff for questions from their customers and to inform their future purchasing decisions for library collections. Trainers conducted sessions on various devices at 24 public libraries, which were attended by 543 library staff. In addition to raising participants' comfort levels with the devices, the sessions often resulted in creative brainstorming about how to use technology in different ways to provide public service and access to information. By offering staff access to a range of devices and electronic equipment the library strengthened its reputation as a technology center and a place where people can come develop their skills and abilities.
IMLS Funds: $28,303
Other project(s) featured through IMLS media include:
Search the Awarded Grants Database for additional details about awards in this state.
View the IMLS funding by state report - Virginia (PDF 1.04 MB) with additional information about all IMLS funding for this state (FY 2011 – FY 2016).
Five-Year Plan Highlights
Lifelong Learning
Literacy
Engage young children, parents, caregivers, and professionals to build a nation of readers:

Create Early Literacy Activity Centers in public libraries and maintain support for them.
Each year, provide materials in print to public libraries for summer and winter reading programs for young children and their families.

Integrate Library of Virginia activities with those of the Commonwealth of Virginia and National Goals of Reading Readiness.
Online Learning
Engage young children, parents, and caregivers with daily early literacy activities:

Maintain, evaluate, and update the DaybyDayVa.org website, and promote the website and related resources in print and electronically.
Create a Spanish version of DaybyDayVa.org.

Provide online resources and program support for public libraries to build a nation of readers:

Design an Early Literacy Activity Center online resource for librarians and others to provide guidance for parents and caregivers on how to make the most of the Centers in their communities.
Each year, provide materials online to public libraries for summer and winter reading programs for young children and their families.
Collaborations
Work with schools to alert students to the availability of online homework help and afterschool activities through their libraries.
Participate in the Virginia Early Childhood Advisory Committee by gathering and sharing information to align projects and activities with state goals and foster partnerships.
Information Access
Access to E-Resources
Provide lifelong learners and readers with access to digital e-books, newspaper and magazine articles, peer reviewed journals, and other e-published content, through Find It Virginia.
Assist public libraries in refreshing their webpages via the Public Library Interface Kit (Plinkit) with current information.
Provide Evergreen, an affordable open source integrated library system (ILS), to public libraries statewide, and encourage migration to Evergreen.
Pilot a progressive series of training programs aimed at novice and experienced genealogical researchers, and use the information gathered to launch a statewide genealogical training initiative.
Digitization/Preservation
Provide opportunities for more open sharing of digital cultural heritage materials and resources, fostering engagement with users of all ages and different disciplines.
Develop and launch a statewide portal for sharing digital cultural materials from public libraries, local historical societies, and other local cultural heritage organizations.
Continue to promote and host authors who are writing books about Virginia's history and culture.
Economic and Employment Development
Business Resources
Assist small business owners in identifying pilot projects that bring public libraries and community organizations into partnerships of mutual advantage.
Institutional Capacity
Continuing Education
Engage professionals to lead training workshops for library staff throughout the state to build the staff's ability to promote and build programs that will engage young and older children, as well as teens, parents, and caregivers in efforts to improve literacy and build the habit of reading.
Design and disseminate an online winter reading program manual for the staff at public libraries.
Create an online course for library staff throughout the state to support their efforts in reaching out to people in their communities for whom English is not their first language as well as people with special needs, and in letting these groups know about services offered at the library.
Support the training and development of proactive library leadership and skilled staff that can meet the challenges of the rapidly changing information-gathering environment.
Provide staff training through workshops, technology train-the-trainer initiatives, annually identifying and purchasing items for the technology petting zoos, and developing e-reader zoos that can be used to train the public.
Marketing and Market Research
Evaluate the services Virginia libraries offer in a careful, thorough, systematic manner.
Technology
Produce and post podcasts and vodcasts of the libraries' public programming.
Allow Virginians to discover the full range of library materials and services through our libraries' websites and with the use of mobile technology.
Civic Engagement
Programs
Foster innovative pilot projects that further library engagement with the community.
Expand programming, including panel discussions, film screenings, exhibit tours, and family events that highlight the libraries' collections and exhibitions.
Access to Government Information
Facilitate access to e-government services by developing partnerships at the state level that will help local libraries and agencies find projects of mutual interest and work together.
Human Services
Special Services for Special Needs
Create partnerships with targeted agencies and organizations to better serve special populations.
Support lifelong learning for seniors through partnerships that will develop and evaluate pilot projects directed at the interests of people in this age group.
IMLS Data Collection
State Library Administrative Agency Survey
The State Library Administrative Agency Survey (SLAA) provides descriptive data about state library agencies for all fifty states and the District of Columbia.
Public Libraries Survey
The Public Libraries Survey (PLS) provides national descriptive data on the status of public libraries in the United States and its territories. Data are collected from more than 9,000 public library systems with over 17,000 public library outlets. Explore state-level profiles to find and compare totals on key data such as numbers of libraries and librarians, revenue and expenditures, and collection sizes.
Content last reviewed on
December 11, 2017