You are here
Community Salute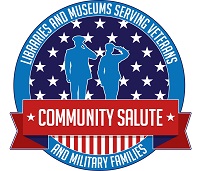 Community Salute is an initiative of the Institute of Museum and Library Services aimed at strengthening the ability of libraries, archives and museums (LAMs) to respond to the needs of veterans and military families.
IMLS engaged FSG to document how LAMs work with veterans in their local communities and to identify ways to foster innovations to improve those services. Several exciting opportunities have been identified for LAMs to open doors for veterans and military families and to forge stronger bonds with their communities and peers.
The Community Salute work has followed the trail blazed by the Community Catalyst Initiative. IMLS conducted research and interview sessions, and hosted a meeting in San Antonio, Texas, to explore how LAMs can provide meaningful support for the nation's more than 22 million veterans and their families.
As a result of the San Antonio meeting and the information gathered from veterans service organizations, foundations, and veterans, IMLS and FSG produced five resource documents. Tailored for LAMs, the documents provide qualitative and quantitative approaches to help museums and libraries bring people together and better serve veterans. The resources include a selection of topics, discussion-starters, data gathering, and facilitation tools that can be used to start or guide community development work.
Supporting Veterans and Military Families: Understanding the Community (PDF, 703 KB)
Demographic, lifestyle, and behavioral analyses that can deepen your understanding of the needs and motivations of veterans.
Supporting Veterans and Military Families: Identifying Your Role (PDF, 593 KB)
Research and case studies to help you assess your potential role and your institutional capabilities.
Supporting Veterans and Military Families: Partner Snapshot (PDF, 688 KB)
Categories of service providers that assist veterans and ways your organization might consider filling any gaps or strengthening those services in your community.
Supporting Veterans and Military Families: Stories from the Military Community (PDF, 605 KB)
Tools to deepen your understanding, and that of others in your community, of the needs of veterans by capturing their stories.
Supporting Veterans and Military Families: How To Begin (PDF, 934 KB)
An overview of the process of beginning or augmenting your services provided to veterans.
IMLS continues to collect examples of successful approaches to serving veterans and military families. Send an email to veterans@imls.gov to share with IMLS how your organization works with veterans and to provide feedback about the new resource documents. #IMLSSalute
News Releases
September 27 2016 Eastern
Blog Posts
Post date:
April 11, 2017
Post date:
November 14, 2016
Post date:
November 11, 2016
Publications