FOR IMMEDIATE RELEASE
IMLS Press Contact
202-653-4799
Giuliana Bullard, gbullard@imls.gov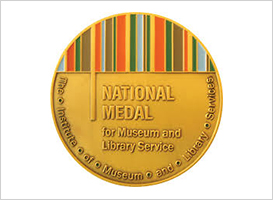 Washington, DC—For more than 20 years, the Institute of Museum and Library Services has recognized museums and libraries that make extraordinary contributions to their communities. The National Medal for Museum and Library Service is the nation's highest honor for exemplary service by these institutions. IMLS is now accepting nominations for the 2015 National Medal for Museum and Library Service. Nomination forms are due October 15, 2014.
All types of nonprofit libraries and library organizations, including academic, research, archives, school, special, library associations, and library consortia, are eligible to receive this honor. Public or private nonprofit museums of any discipline (including art, history, science and technology, children's, and natural history), as well as historic houses, nature centers, zoos, and botanical gardens, are eligible.
Winners are honored at a ceremony in Washington, D.C., host a two-day visit from StoryCorps to record community member stories, and receive positive press attention through a media campaign. Approximately thirty finalists are selected as part of the process and are featured by IMLS as part of a six-week social media and press campaign.
Winning the medal elevates an institution's profile and can positively impact fundraising, programming, and outreach activities, as noted by these past recipients:
Since receiving the National Medal in 2009, Braille Institute's Library Services has been able to raise its profile in the community via our website, Summer Reading, and annual Open House programs. The National Medal allowed us to invite notable guests--including well known actresses, authors, and narrators--to participate in our annual Library Open House programs.
—Dr. Henry C. Chang, Braille Institute Library Services, Los Angeles, CA
The recognition we received along with the National Medal gave us that credibility as a nationally recognized museum, and catapulted us into a category alongside so many other respected cultural venues. The recognition for us on a national level trickled down to the regional and local levels, and the community has really caught notice.
—Carolyn Eller, Erie Art Museum, Erie, PA, a 2011 winner
The Flint Public Library was deeply honored to receive the National Medal for Museum and Library Service in 2004. Our achievement opened the door to have conversations with community members and also with major funders regarding the significance of the award and, more importantly, the importance of the community-based programming that led to the award in the first place.
—Kay Schwartz, Flint Public Library, Flint, MI
Anyone may nominate a museum or library for this honor, and institutions may self-nominate. For the nomination form and more information click here or reach out to one of the following contacts.
Program Contact for Museums:
Katherine Maas, Museum Program Specialist
202-653-4798, kmaas@imls.gov
Program Contact for Libraries:
Katie Murray, Staff Assistant
202-653-4644, kmurray@imls.gov
About the Institute of Museum and Library Services
The Institute of Museum and Library Services is the primary source of federal support for the nation's 123,000 libraries and 35,000 museums. Our mission is to inspire libraries and museums to advance innovation, lifelong learning, and cultural and civic engagement. Our grant making, policy development, and research help libraries and museums deliver valuable services that make it possible for communities and individuals to thrive. To learn more, visit www.imls.gov and follow us on Facebook and Twitter.
Programs
National Medal for Museum and Library Service