FOR IMMEDIATE RELEASE
Press Contact
Adrienne Lee
(202) 414-0788; alee@susandavis.com
First Lady Michelle Obama Presents National Medal for Museum and Library Service
at White House Event
Institute of Museum and Library Services Ceremony Honors 10 Exceptional Museums and Libraries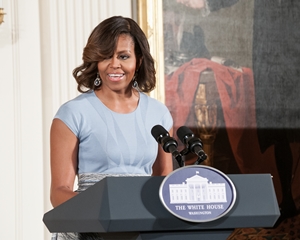 Mrs. Obama deliveres remarks at the ceremony. Click image for a larger view.
Washington, DC – This morning, First Lady Michelle Obama joined Institute of Museum and Library Services Director Susan H. Hildreth to present the 2014 National Medal for Museum and Library Service to 10 exceptional museums and libraries that have made a difference in the lives of individuals in their communities. This is the 20th anniversary year for the National Medal, the nation's highest honor given to museums and libraries for service to the community.
These ten honorees exemplify the nation's great diversity of libraries and museums and include a natural history museum, a children's museum, a natural sciences museum, an aquarium, a botanic garden, public library systems, and a book center, and hail from ten states. The 2014 National Medal for Museum and Library Service recipients are:
Brooklyn Botanic Garden, Brooklyn, N.Y.
Chicago Public Library, Chicago, Ill.
The Children's Museum of Indianapolis, Indianapolis, Ind.
Las Vegas-Clark County Library District, Las Vegas, Nev.
Mid-Continent Public Library, Independence, Mo.
Mystic Aquarium, Mystic, Conn.
North Carolina Museum of Natural Sciences, Raleigh, N.C.
Octavia Fellin Public Library, Gallup, N.M.
Sam Noble Oklahoma Museum of Natural History, Norman, Okla.
Yiddish Book Center, Amherst, Mass.
The First Lady presented the National Medal to the museum and library directors and to community members from each institution, to recognize the extraordinary contributions they have made to their communities.
"The 2014 National Medal for Museum and Library Service recipients offer outstanding programming and services that address vital community needs and inspire a love of learning," said Susan H. Hildreth, director of the Institute of Museum and Library Services. "The life-changing experiences of these institutions' selected community members, who have made the trip to Washington, D.C., to share their stories, remind us just how valuable our nation's museums and libraries are."
Selected from nationwide nominations, medal winning museums and libraries demonstrated innovative approaches to public service, exceeding the expected levels of community outreach. Later this year, StoryCorps – a national nonprofit dedicated to recording, preserving, and sharing the stories of Americans – will visit each winning institution to document stories from their communities. The next deadline for nominating a museum or library is October 15, 2014. Learn more about the National Medal at www.imls.gov/medals.
Editor's Note: Additional photos from this morning's ceremony are available upon request. Please contact Adrienne Lee at alee@susandavis.com or (202) 414-0788.
About the Institute of Museum and Library Services
The Institute of Museum and Library Services is the primary source of federal support for the nation's 123,000 libraries and 17,500 museums. Our mission is to inspire libraries and museums to advance innovation, lifelong learning, and cultural and civic engagement. Our grant making, policy development, and research help libraries and museums deliver valuable services that make it possible for communities and individuals to thrive. To learn more, visit www.imls.gov and follow us on Facebook and Twitter.
Programs
National Medal for Museum and Library Service