IMLS Names Finalists for National Medal for Museum and Library Service
Share Your Story Campaign to Showcase 30 Libraries and Museums Across America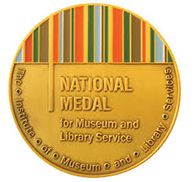 Washington, DC—The Institute of Museum and Library Services is pleased to announce 30 finalists for the 2021 National Medal for Museum and Library Service. The National Medal is the nation's highest honor given to museums and libraries that demonstrate excellence in service to their communities. Since 1996, the award has honored 170 institutions that demonstrated extraordinary and innovative approaches to public service.
"The revival and reinstitution of the National Medals by IMLS is another signal of recovery and renewal in the nation's very challenging—but very hopeful—times," said IMLS Director Crosby Kemper. "We are celebrating not only the ongoing excellence of the best of our museums and libraries, but their extraordinary efforts through the pandemic, the recession, the racial justice protests, and national divisions to serve, heal, and bring together our communities. Congratulations to all 30 finalists."
Throughout March and April, IMLS will showcase the excellent community work of these institutions through its Share Your Story social media campaign. Anyone whose life has been touched by these museums or libraries is encouraged to share their memories and pictures and tag IMLS on Facebook and Twitter by using the hashtag #IMLSMedals.
IMLS congratulates the 2021 finalists of the National Medal for Museum and Library Service and thanks all those who applied. The 30 finalists for the honor are:
Libraries
Cabell County Public Library (Huntington, WV)
Chapel Hill Public Library (Chapel Hill, NC)
Dakota County Library (Eagan, MN)
Gwinnett County Public Library (Lawrenceville, GA)
Haines Borough Public Library (Haines, AK)
Highwood Public Library (Highwood, IL)
Kenosha Public Library (Kenosha, WI)
Long Branch Free Public Library (Long Branch, NJ)
Marathon Public Library (Marathon, TX)
Memphis Public Library and Information Center (Memphis, TN)
North Las Vegas Library District (North Las Vegas, NV)
Queens Public Library Langston Hughes (Corona, NY)
Redwood City Public Library (Redwood City, CA)
The Ferguson Library (Stamford, CT)
West Warwick Public Library (West Warwick, RI)
Museums
Asheville Art Museum (Asheville, NC)
Brookfield Zoo (Brookfield, IL)
Cincinnati Art Museum (Cincinnati, OH)
Center of Science and Industry (COSI) (Columbus, OH)
Great Lakes Science Center (Cleveland, OH)
High Desert Museum (Bend, OR)
Museo de Arte de Ponce (Ponce, Puerto Rico)
The Maritime Aquarium at Norwalk (Norwalk, CT)
Mississippi Children's Museum (Jackson, MS)
New-York Historical Society (New York, NY)
Orlando Science Center (Orlando, FL)
Queens Museum (Corona, NY)
Taubman Museum of Fine Art (Roanoke, VA)
Thomas Cole Historic House (Catskill, NY)
Virginia Museum of Natural History (Martinsville, VA)
National Medal winners will be announced in May, and an open virtual ceremony and celebration will be held this summer.
To learn more about the National Medals, visit the IMLS website.
About the Institute of Museum and Library Services
The Institute of Museum and Library Services is the primary source of federal support for the nation's libraries and museums. We advance, support, and empower America's museums, libraries, and related organizations through grantmaking, research, and policy development. Our vision is a nation where museums and libraries work together to transform the lives of individuals and communities. To learn more, visit www.imls.gov and follow us on Facebook and Twitter.
Programs
National Medal for Museum and Library Service