FOR IMMEDIATE RELEASE
MEDIA CONTACT:
Aliza Bran
abran@susandavis.com; 202-414-0798
Thirty museums and libraries honored as finalists for National Medal Award
Public encouraged to share stories of institutions' excellence in programs and services on IMLS Facebook page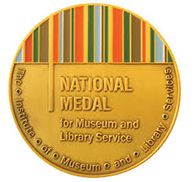 WASHINGTON–The Institute of Museum and Library Services today announced 30 finalists for the 2016 National Medal for Museum and Library Service. The National Medal is the nation's highest honor given to museums and libraries for service to the community. For 22 years, the award has celebrated institutions that demonstrate extraordinary and innovative approaches to public service and are making a difference for individuals, families, and communities.
"The 2016 National Medal finalists make lasting differences in their communities by serving and inspiring the public," said Dr. Kathryn K. Matthew, director of the Institute of Museum and Library Services. "We proudly recognize these museums and libraries for their invaluable work to provide Americans with educational resources, 21st century skills, and opportunities for lifelong learning. As key stewards of our nation's future, we salute the 30 finalists for their excellence in engaging our citizenry and expanding learning of all kinds."
IMLS is encouraging those who have visited finalist libraries and museums to share their story on the IMLS Facebook page. To Share Your Story, please visit www.facebook.com/USIMLS.
The 2016 finalists of the National Medal for Museum and Library Service are:
Libraries
Brooklyn Public Library (Brooklyn, New York)
Dallas Public Library (Dallas, Texas)
Haines Borough Public Library (Haines, Alaska)
Illinois Fire Service Institute Library (Champaign, Illinois)
James E. Brooks Library at Central Washington University (Ellensburg, Washington)
Juneau Public Libraries (Juneau, Alaska)
Kitsap Regional Library (Bremerton, Washington)
Longmont Public Library (Longmont, Colorado)
Madison Public Library (Madison, Wisconsin)
North Carolina State University Libraries (Raleigh, North Carolina)
Otis Library (Norwich, Connecticut)
Richland Library (Columbia, South Carolina)
San Mateo County Libraries (SMCL) (San Mateo, California)
Santa Ana Public Library (Santa Ana, California)
Terrebonne Parish Library System (Houma, Louisiana)
Museums
Chicago History Museum (Chicago, Illinois)
Children's Museum Tucson (Tucson, Arizona)
Columbia Museum of Art (Columbia, South Carolina)
Dallas Holocaust Museum (Dallas, Texas)
The Eric Carle Museum of Picture Book Art (Amherst, Massachusetts)
Fitchburg Art Museum (Fitchburg, Massachusetts)
Honolulu Museum of Art (Honolulu, Hawaii)
Imagination Station, Toledo's Science Center (Toledo, Ohio)
Leigh Yawkey Woodson Art Museum (Wausau, Wisconsin)
Lynn Meadows Discovery Center for Children (Gulfport, Mississippi)
Mid-America Science Museum (Hot Springs, Arkansas)
Santa Cruz Museum of Art & History (Santa Cruz, California)
Nantucket Historical Association (Nantucket, Massachusetts)
Tomaquag Museum (Exeter, Rhode Island)
Whitney Museum of American Art (New York, New York)
The National Medal winners will be named later this spring, and representatives from winning institutions will travel to Washington, D.C., to be honored in a White House ceremony.
To learn more about the 2016 National Medal finalists, visit www.imls.gov/2016-medals.
About the Institute of Museum and Library Services
The Institute of Museum and Library Services is the primary source of federal support for the nation's 123,000 libraries and 35,000 museums. Our mission is to inspire libraries and museums to advance innovation, lifelong learning, and cultural and civic engagement. Our grant making, policy development, and research help libraries and museums deliver valuable services that make it possible for communities and individuals to thrive. To learn more, visit www.imls.gov and follow us on Facebook and Twitter.
Programs
National Medal for Museum and Library Service