IMLS Announces 10 Recipients of Nation's Top Award for Museums and Libraries
Two Native American Tribes, Research Library, Civil Rights Museum Among Winners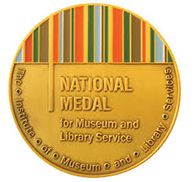 WASHINGTON, DC—The Institute of Museum and Library Services today announced the 10 recipients of the 2019 National Medal for Museum and Library Service, the nation's highest honor given to libraries and museums that make significant and exceptional contributions to their communities. Over the past 25 years, the award has celebrated institutions that are making a difference for individuals, families, and communities.
Selected from 30 national finalists, the winners of the 2019 National Medal for Museum and Library Service are addressing unique issues and challenges confronting communities today through their programs and services. From Florida to Washington State and Tennessee to California, these 10 organizations demonstrate the many ways museums and libraries are meeting the needs of the people they serve.
The 2019 National Medal recipients are:
Jamestown S'Klallam Tribal Library (Sequim, WA)
Inter-university Consortium for Political and Social Research (Ann Arbor, MI)
New Haven Free Public Library (New Haven, CT)
Gulfport Public Library (Gulfport, FL)
Meridian Library District (Meridian, ID)
Barona Band of Mission Indians - Barona Cultural Center and Museum (Lakeside, CA)
New Children's Museum (San Diego, CA)
Orange County Regional History Center (Orlando, FL)
National Civil Rights Museum at the Lorraine Motel (Memphis, TN)
South Carolina Aquarium (Charleston, SC)
"It's a pleasure to recognize the 10 recipients of the National Medal of Museum and Library Service," said IMLS Director Dr. Kathryn K. Matthew. "Through their programs, services, and partnerships, these institutions exemplify the many ways that libraries and museums are positively transforming communities across the nation."
The National Medal recipients will be presented with their awards at an event in Washington, DC, on June 12. To find out more about the 2019 winners, please visit the National Medals page.
For more information, including how to apply for the 2020 National Medal or nominate a museum or library for consideration, please watch the IMLS website for upcoming announcements, or sign up for email notifications.
About the Institute of Museum and Library Services
The Institute of Museum and Library Services is the primary source of federal support for the nation's libraries and museums. We advance, support, and empower America's museums, libraries, and related organizations through grantmaking, research, and policy development. Our vision is a nation where museums and libraries work together to transform the lives of individuals and communities. To learn more, visit www.imls.gov and follow us on Facebook and Twitter.
Programs
National Medal for Museum and Library Service