IMLS Names Finalists for National Medal for Museum and Library Service
Social media campaign to feature stories of museum and library excellence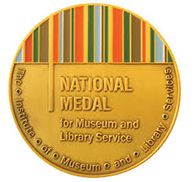 WASHINGTON, DC – The Institute of Museum and Library Services today announced 30 finalists for the 2019 National Medal for Museum and Library Service. The National Medal is the nation's highest honor given to museums and libraries for community service. Over the past 25 years, the award has celebrated institutions throughout the nation that have demonstrated extraordinary and innovative approaches to public service.
"The 30 National Medal finalists from across the United States showcase the tremendous abilities of libraries and museums to serve as vital community resources," said IMLS Director Dr. Kathryn K. Matthew. "The Institute of Museum and Library Services is honored to recognize these leading institutions. We congratulate them on their service and their daily work, hand-in-hand with their communities."
Throughout March and April, IMLS will celebrate the excellent community work of these institutions through its six-week Share Your Story social media campaign, beginning March 12. Anyone with a story to tell about these libraries and museums is encouraged to share comments and pictures with #IMLSmedals and tag IMLS on Facebook and Twitter.
The 2019 finalists of the National Medal for Museum and Library Service are:
Libraries
Aaniiih Nakoda College Library (Harlem, MT)
Bismarck Veterans Memorial Public Library (Bismarck, ND)
Flint Public Library (Flint, Michigan)
Gulfport Public Library (Gulfport, FL)
ICPSR at the University of Michigan Institute for Social Research (Ann Arbor, MI)
Jamestown S'Klallam Tribal Library (Sequim, WA)
Jane Stern Dorado Community Library (Dorado, Puerto Rico)
LA County Library (Los Angeles County, CA)
McMillan Memorial Library (Wisconsin Rapids, WI)
Meridian Library District (Meridian, ID)
New Haven Free Public Library (New Haven, CT)
Route 9 Library and Innovation Center (New Castle, DE)
Spokane Public Library (Spokane, WA)
Tempe Public Library (Tempe, AZ)
Union County Carnegie Library (Union, SC)
Museums
9/11 Memorial Museum (New York, NY)
Barona Cultural Center and Museum (Lakeside, CA)
Brookfield Zoo (Brookfield, IL)
El Pueblo History Museum (Pueblo, CO)
Kimbell Art Museum (Fort Worth, TX)
Minnesota Children's Museum (Saint Paul, MN)
National Civil Rights Museum at the Lorraine Motel (Memphis, TN)
New York Aquarium (Brooklyn, NY)
Northwest African American Museum (Seattle, WA)
Orange County Regional History Center (Orlando, FL)
Orlando Science Center (Orlando, FL)
Peggy Notebaert Nature Museum (Chicago, IL)
South Carolina Aquarium (Charleston, SC)
The New Children's Museum (San Diego, CA)
Tower Hill Botanic Garden (Boylston, MA)
National Medal winners will be announced later this spring. Representatives from winning institutions will receive their medals at a ceremony on June 12 in Washington, D.C.
To learn more about the National Medals, visit the IMLS website.
About the Institute of Museum and Library Services
The Institute of Museum and Library Services is the primary source of federal support for the nation's libraries and museums. We advance, support, and empower America's museums, libraries, and related organizations through grantmaking, research, and policy development. Our vision is a nation where museums and libraries work together to transform the lives of individuals and communities. To learn more, visit www.imls.gov and follow us on Facebook and Twitter.
Programs
National Medal for Museum and Library Service