You are here
National Digital Platform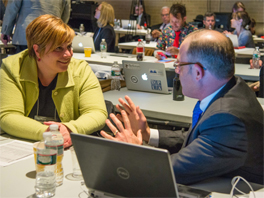 The national digital platform is a way of thinking about and approaching the digital capability and capacity of libraries and museums across the US. In this sense, it is the combination of software applications, social and technical infrastructure, and staff expertise that provide digital content, collections, and related services to users in the US.
As libraries and museums increasingly use digital infrastructure to provide access to digital content and resources, there are more and more opportunities for collaboration around the tools and services that they use to meet their users' needs. It is possible for each library and museum in the country to leverage and benefit from the work of other organizations in shared digital services, systems, and infrastructure.
Bridging the gaps between disparate pieces of the existing digital infrastructure can support increased efficiencies, cost savings, access, and services. To this end, IMLS is focusing on the national digital platform as an area of priority in the National Leadership Grants to Libraries program and the Laura Bush 21st Century Librarian program. We are eager to explore how this way of thinking and approaching infrastructure development can help states make the best use of the funds they receive through the Grants to States program.
We welcome Museums for America applications that focus on creating digital tools and platforms to broaden access and expand use of a museum's collections. And we encourage National Leadership Grants for Museums applications that address digital infrastructure development and efficient, shared-service approaches, scaled application of existing platforms, and use of linked open data standards and protocols.
We're also eager to work with other foundations and funders to maximize the impact of our federal investment.
National Digital Platform Funding Opportunities
Further Background & Reading
The initial framing and development of the National Digital Platform developed through two IMLS Focus stakeholder meetings. The first was held in April of 2014 at New York Public Library; the second was held in April of 2015 at the DC Public Library's Martin Luther King Jr. Memorial Library. Recordings of these events and summery notes for each are available online (2015 Session recordings & Summary notes and 2014 Session recordings & Summary notes. A June 2015 article in American Libraries Magazine, The National Digital Platform for Libraries and Museums: Collaborating on tools and services across organizations synthesizes much of work that emerged from these two meetings. The May/June 2017 issue of D-Lib Magazine is dedicated to the national digital platform and includes an editorial by IMLS staff "Libraries Advancing the National Digital Platform," as well as 14 informative articles written by NDP grantees describing their projects.
National Initiative: National Digital Stewardship Residency
The National Digital Stewardship Residency (NDSR) is series of related projects that place recent master's graduates in temporary positions at host institutions to complete hands-on digital stewardship projects. The program aims to develop residents' professional networks through its cohort model as well as by encouraging professional development and providing funding for conference attendance. Throughout the residency, residents participate in activities such as invited lectures and training. The NDSR began through a partnership with the Library of Congress in 2013 and has also been supported through competitive grants in the Laura Bush 21st Century Librarian Program:
Other organizations interested in proposing residency projects to the Laura Bush 21st Century Librarian Program are encouraged to contact current institutions running these projects and IMLS program officers.
National Initiative: Open eBooks
The Open eBooks initiative was announced by President Obama at a ConnectED event that was held at Anacostia Library in Washington, DC on April 30, 2015. Open eBooks adds to existing efforts to help kids develop a love of reading and discovery by making ebooks available to children and youth from low-income families. Read more.
Events and Webinars
October 17 2017

9:00 AM Eastern

to

4:00 PM Eastern
October 11 2017

2:00 PM Eastern

to

3:00 PM Eastern
April 28 2015

9:00 AM Eastern

to

4:30 PM Eastern
Awarded Grants
| Institution | Log Number | Program | Fiscal Year | Award |
| --- | --- | --- | --- | --- |
| University of Maryland | LG-71-17-0159-17 | National Leadership Grants for Libraries | | $240,139.00 |
| University of North Texas | LG-71-17-0202-17 | National Leadership Grants for Libraries | | $318,988.00 |
| North Carolina State University | LG-72-17-0132-17 | National Leadership Grants for Libraries | | $49,808.00 |
| Virginia Polytechnic Institute and State University | LG-73-17-0141-17 | National Leadership Grants for Libraries | | $95,024.00 |
| Massachusetts Institute of Technology | LG-73-17-0162-17 | National Leadership Grants for Libraries | | $92,170.00 |
| Art Center College of Design | LG-74-17-0134-17 | National Leadership Grants for Libraries | | $25,000.00 |
| Trustees of the University of Pennsylvania | LG-74-17-0161-17 | National Leadership Grants for Libraries | | $25,000.00 |
| University of Washington | LG-74-17-0190-17 | National Leadership Grants for Libraries | | $25,000.00 |
| University of Pittsburgh | LG-70-17-0146-17 | National Leadership Grants for Libraries | | $224,761.00 |
| Council of State Archivists | LG-70-17-0196-17 | National Leadership Grants for Libraries | | $210,240.00 |